News
Mortal Kombat 11: Joker and Terminator Join DLC Roster
Mortal Kombat gets some celebrity reinforcements as The Joker and The Terminator join the game.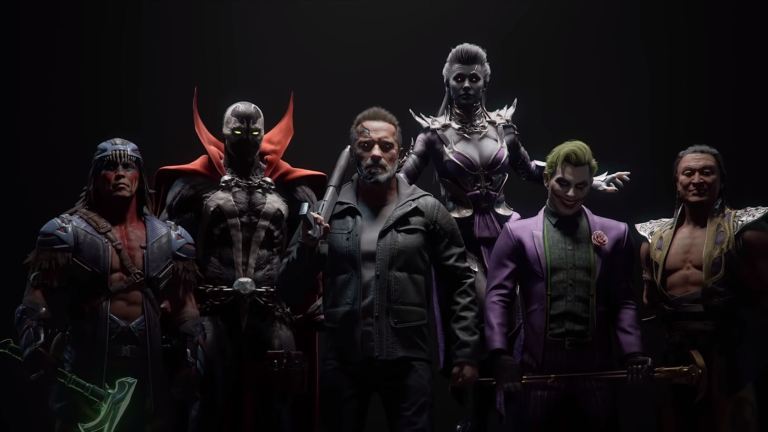 Mortal Kombat 11 Kombat Pack DLC will add the Terminator, the Joker, and other iconic characters to the game. 
The Terminator's appearance seemingly comes courtesy of a crossover between Mortal Kombat and the upcoming Terminator: Dark Fate (which we've talked about extensively in the past). That means this will be the T-800 model of Terminator, which means that it will also resemble Arnold Schwarzenegger (though it doesn't appear that Arnold has lent his voice to the game). 
The Terminator is described via press release as "nearly indestructible" and a character who "possesses superior technology, fighting skills, and artificial intelligence capabilities, making him the ultimate killing machine." It's not entirely clear how those skills will translate into the game, but we're expecting some awesome fatalities. 
The Joker appearance doesn't seem to be tied into any specific promotion. Actually, the version of the character featured in the trailer doesn't appear to resemble any popular versions of the character that we've seen in other mediums. He's described as having a "deadly and unpredictable combat style," and we certainly wouldn't be surprised to hear that he'll play similarly to the version of the Joker seen in NetherRealm Studios' Injustice 2. 
The Terminator T-800 will be added to the roster on October 8 (via early access) while The Joker is set to be released on January 28. That same Kombat Pack will see classic Mortal Kombat character Sindel join the game on November 26, while the iconic Spawn will join the roster on March 17. Shang Tsung and Nightwolf have already been added to Mortal Kombat 11 as part of this post-release pack. 
It's an interesting time to be a Mortal Kombat fan. Mortal Kombat 11 has stumbled somewhat, but it's turned out to be a pretty great overall entry into the franchise. There's also that new Mortal Kombat movie in development which will hope to live up to the legacy of the '90s classic. 
Matthew Byrd is a staff writer for Den of Geek. He spends most of his days trying to pitch deep-dive analytical pieces about Killer Klowns From Outer Space to an increasingly perturbed series of editors. You can read more of his work here or find him on Twitter at @SilverTuna014. 
Read and download the Den of Geek SDCC 2019 Special Edition Magazine right here!