News
Monster Hunter World: New Raid Quest Lets you Take on An Elder Dragon
Monster Hunter World next update is a large-scale raid with a lot of loot.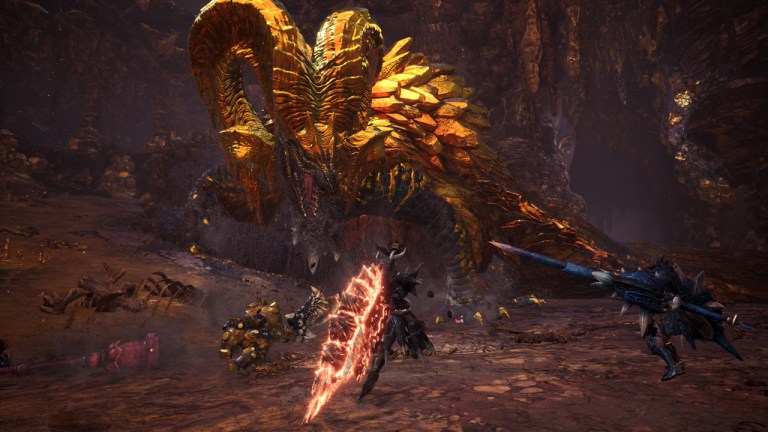 The next Monster Hunter World update will add a large multi-man raid to the game. 
Siege of Kulve Taroth will let four groups of four hunters embark on an epic new quest to take down an elder dragon, Kulve Taroth. While it's described as a 16-man adventure, it turns out that the actual raid is much larger than that. 
"As each hunting party collects more tracks and breaks off more parts from attacking Kulve Taroth, they'll contribute progress to the same Siege," says Capcom in the update's official description. "The primary goal of this Siege is to repel Kulve Taroth, but its shimmering golden mantle happens to be a collection of shiny weapon relics it has gathered along its journey through the New World." 
The idea of every player contributing to the overall progress of the raid is a fascinating one. Equally fascinating is the implication that you'll actually be able to complete this raid by yourself. However, Capcom warns potential solo adventurers that this is intended to be a multiplayer raid. As such, you might not get the full intended experience of the quest if you try to beat it by yourself. Actually, they seem to doubt that many will be able to beat it at all by themselves.
However you manage to beat the raid, doing so will reward you with some incredibly rare items that seem to rank comfortably amongst the best equipment in the game. In fact, it seems that the gold that this particular elder dragon is hoarding happens to contain the very rewards that you're questing for. As such, we don't imagine that beating him is going to be an easy affair. 
It's hard not to be impressed by the work that Capcom has done with Monster Hunter World since the game's release. It's already the best-selling Capcom game ever, and the studio seems committed to ensuring its fans remained entertained. We can't wait to check out this latest addition when Siege of Kulve Taroth launches on April 19th.