News
Mini SNES Classic Edition Release Date, Price, & Games
Everything you need to know about the SNES Classic Edition, including latest news, release date, price, and the games lineup!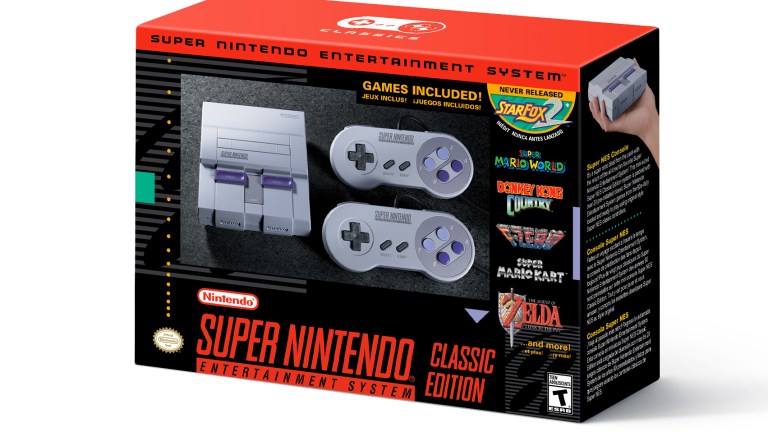 In a move that will come as a surprise to few, Nintendo is releasing a Super Nintendo Classic Edition after the success of  last year's retro NES console, which sold out in virtually every retail and online store over night. 
It had been rumored that Nintendo had confirmed the existence of the Super Nintendo Classic Edition to a small group of GameStop managers during a closed-door meeting, but Nintendo took to Twitter to share the good news with the rest of the world. 
Here's everything you need to know about the SNES Classic Edition:
Mini SNES Classic Buyer's Guide
The SNES Classic Edition is almost here, which means that you're probably scrambling to find a unit if you didn't get a chance to pre-order the retro console. Here's where you can find the Mini SNES online:
AmazonGamestopBest BuyWalmartTargetToys R Us
As for going to an actual store, there are a few stores that have confirmed that the console is in stock (in limited quantities):
Gamestop (limited supply)Target (IGN reports that every store near me will have "plenty" in stock)Toys R Us Best Buy
Mini SNES Classic Release Date & Price
The SNES Classic Edition will launch on September 29, 2017 and retail for $79.99 in America. Pre-orders are expected to begin relatively soon, and Nintendo has promised to ship more SNES Classic units than they did NES Classic units. 
Unlike the NES Classic Edition which was discontinued seemingly out of nowhere – at least at the time – Nintendo wants you to know that they intend on shipping new SNES Classic Edition units into 2018.
This contradicts the company's previous announcement which suggested that SNES Classic Editions will only be available until the end of the year. Furthermore, Nintendo has stated that there will be more units of the SNES Classic Edition available on day one than there were NES Classic Editions shipped all last year. Nintendo has also promised to ship SNES Classic Editions regularly following its initial release. 
"Fans have shown their unbridled enthusiasm for these Classic Edition systems, so Nintendo is working to put many more of them on store shelves," states Nintendo in an official press release.
There's no word yet on when, or if, Nintendo plans on discontinuing production and shipment of the SNES Classic Edition. 
Mini SNES Classic Trailer
Nintendo has also released a new trailer for the SNES Classic Edition that breaks down some of the console's key features. Highlights include a highlight feature that rolls clips of your previous gameplay sessions when the system is idle, custom borders that allow you to replace the black bars on the side of the gameplay with a variety of custom visuals, a rewind function that lets you undo recent gameplay, and an extended save state function that will allow for greater – or at least easier – control over saving your spot in a game and accessing it later. 
Mini SNES Classic Games
Those who purchase the miniature recreation of one of Nintendo's most beloved consoles will be able to access its built-in 21 game library, which includes the following titles:
Contra III: The Alien Wars
Donkey Kong Country
EarthBound
Final Fantasy III
F-ZERO
Kirby Super Star
Kirby's Dream Course
The Legend of Zelda: A Link to the Past
Mega Man X
Secret of Mana
Star Fox
Star Fox 2
Street Fighter II Turbo: Hyper Fighting
Super Castlevania IV
Super Ghouls 'n Ghosts
Super Mario Kart
Super Mario RPG: Legend of the Seven Stars
Super Mario World
Super Metroid
Super Punch-Out!! 
Yoshi's Island
Before we break down that list, let's address the elephant in the lineup. Yes, Nintendo intends to release the long-lost Star Fox 2 as part of the SNES Classic Edition lineup. According to Nintendo, players will need to complete the first level of Star Fox in order to unlock the sequel. While a playable build of Star Fox 2 has been widely available via ROM sites for years now, this is the first time Nintendo has ever released any official version of the game. 
As for the rest of that list, it's a fascinating combination of all-time classics (A Link to the Past) and slightly more obscure titles that are very much worth playing (EarthBound). The SNES Classic Edition does feature fewer games than the NES Classic Edition, but that seems to be offset by the fact that some of the games included as part of the console's lineup are 30+ hour JRPG epics. On that note, it's a little disappointing that Chrono Trigger didn't make the cut, but it's hard to argue against the inclusion of Final Fantasy III, EarthBound, Super Mario RPG, and Secret of Mana so far as JRPG golden age representatives go. 
Actually, with the possible exception of Kirby's Dream Course, there isn't a game on this list we wouldn't consider to be an essential experience.
Even if you are playing Kirby's Dream Course, you'll at least be able to control the game from a reasonable distance this time around. Yes, Nintendo has confirmed to IGN that the SNES Classic Edition's controller cord is about two feet longer than the NES Classic Edition's. 
Additionally, Nintendo has stated that they intend to produce far more SNES Classic Editions than they did NES Classic Editions. At the same time, Nintendo still seems to be treating this device as something of a limited release, meaning that those who wish to get one sometime in the next year will want to keep an eye out for any further updates regarding retailer availability.