News
Minecraft Earth: Gameplay Revealed in New Trailer
Minecraft Earth turns our world into the world of Minecraft in ways that will have you dreaming of a holodeck.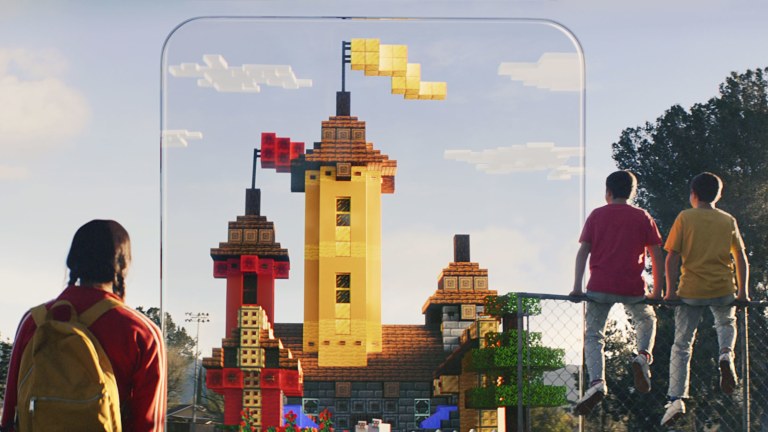 To the surprise of absolutely nobody, Microsoft has announced a Pokemon Go-like mobile game called Minecraft Earth. 
"We have covered the entire planet in Minecraft," says Minecraft Earth director Torfi Olafsson in an interview with The Verge. "Every lake is a place you can fish, every park is a place you can chop down trees. We've actually taken maps of the entire world and converted them to Minecraft."
What that means is that Minecraft Earth will allow you to turn the world into the largest game of Minecraft ever envisioned. It allows you to create elaborate Minecraft builds using the real world as your basis. You can even use the game's augmented reality technology to walk around your own creation. Essentially, Minecraft Earth offers you many of the tools that you would find in a regular game of Minecraft but expands the scope of that game considerably.   
Where things get downright crazy is when you start to factor in Minecraft Earth's multiplayer abilities. Let's say that I start building a castle on my kitchen table. If you come over, I can invite you to build this castle with me. We'll both be able to see exactly what the other person is working on and will be able to examine the castle from every angle. When we're done with that building, we can expand it to "life-size" and share it with others if we choose to do so. 
This concept of object permanence in Minecraft Earth required its developers to essentially advance AR technology several years ahead of its previous path. They reveal that nobody was really working on that concept before they started developing this title in secret. However, object permanence is the core mechanic that makes Minecraft Earth so much more than a "Pokemon Go game," (we're looking at you Harry Potter: Wizards Unite). 
The possibilities of that mechanic are almost unbelievable. Early previews of the game reveal that the developers have already created multi-story structures full of traps, surprised, and interactions that can all be experienced through the lens of your phone as you wander the world. Speaking of wandering the world, you'll need to walk around to collect resources from various hotspots in order to get what you need to complete builds as well as the optional in-game objectives and quests. You can get a better idea of all how this works via the new gameplay trailer below:
If everything goes according to plan, Minecraft Earth might just be poised to take over the world. We'll know for sure when the app's closed beta starts sometime in the next couple of weeks. You can register for a chance to participate in that beta here. 
Matthew Byrd is a staff writer for Den of Geek. He spends most of his days trying to pitch deep-dive analytical pieces about Killer Klowns From Outer Space to an increasingly perturbed series of editors. You can read more of his work here or find him on Twitter at @SilverTuna014.