Features
Mighty No. 9 and the sad story of Mega Man and Capcom
Could Keiji Inafune's Mighty No. 9 change Mega Man's fortunes? Ryan charts the blue bomber's turbulent history...
In spite of its role in establishing Capcom's reputation in the 80s and 90s, the Mega Man series appears to have withered into obscurity in the past few years, following the departure of co-creator Keiji Inafune and the high-profile cancellation of three games in the series.
So what went wrong for the blue bomber, and could his creator's new Kickstarter project change his fortunes in years to come?
Beginnings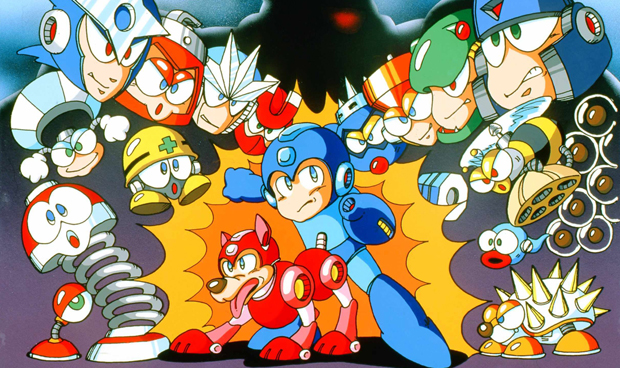 Inafune joined Capcom in 1987, and his first job was to assist on the design of Street Fighter, the opening in a brawler series that wouldn't explode into popularity until the sequel showed up four years later.
Inafune's biggest contribution in those early years, however, was his co-creation of the Mega Man series, or Rockman as it was known in Japan. Immediately recognisable from his chunky proportions and distinctive blue armour, Mega Man's 1987 debut on the Nintendo Entertainment System was a modest hit for Capcom, and its sales in Japan were deemed promising enough to risk a rushed release in the US – its infamously botched North American box artwork being a symbol of its off-hand treatment.
The signs of a popular series were there, but Capcom were nervous about pouring too much money into the development for a sequel. Inafune and his team, determined to get their ideas onto a cartridge, decided to go ahead and make a second game while working on other projects at the same time. Although Mega Man 2 was created in little more than 12 weeks or so, the gamble paid off: as well as selling about 1.5million copies, Mega Man 2 (1988) was a critical and cult hit, and its fast-paced platform action and brutal difficulty level.
The success of Mega Man prompted Capcom to support the series more fully, and 1990 was the year that marked an unbroken run of follow-ups. That year's Mega Man 3 was followed not only by three numbered sequels, but also a whole slew of spin-off series, including the Mega Man X series for the Super Nintendo, beginning in 1993, not to mention Mega Man Soccer (1994) the Mega Man Zero series (2002), and the Mega Man Battle Network series (2001) to name a few.
Altogether, the Mega Man franchise straddled all kinds of genres and platforms, and from the very first game in 1987 to Mega Man 10 in 2010, Inafune worked on almost every entry in some capacity. But in its rush to spread the Mega Man brand far and wide, it could be said that Capcom may have created a certain amount of confusion – even the most dedicated fans would have struggled to keep up with the sheer number of Mega Man games which appeared between the years 2000 to 2003 alone (all told, that figure comes to eight).
Mega Man Legends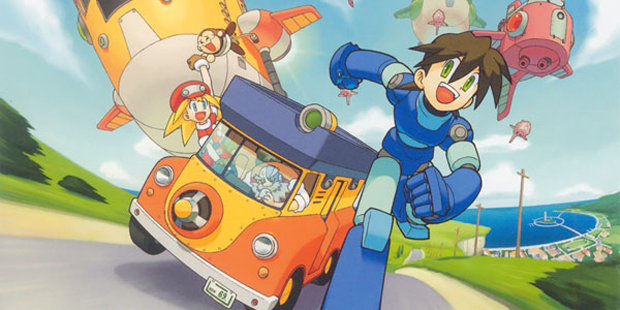 The Mega Man Legends series, meanwhile, marked the blue bomber's foray into polygonal 3D. The first game appeared on the PlayStation in 1997, and although not perfect, it laid the foundations for Mega Man Legends 2 – a huge improvement which proved that there was a future for the Mega Man series away from its traditional 2D roots.
Oddly, Capcom didn't rush to make a third Mega Man Legends, even though a version for the next generation of consoles – namely, the PlayStation 2 – would have been a logical step forward. Instead, both the studio and Inafune, serving as producer, pressed ahead with the 2D Mega Man X series, and the numerous handheld outings touched on above. In a 2007 interview, Inafune said that the lower-than-anticipated sales of Legends 2 were the major reason for the series' hiatus, and mused that, "It's really difficult to have your company give you a budget for a game that flopped."
Happily, Capcom finally relented in 2010, and Mega Man Legends 3 was announced. Now a Nintendo 3DS exclusive, it was quite an unusual move for the company, in that it was the first game to encourage direct involvement from fans. Designs for a new heroine, as well as boss and battle armour designs, could be submitted to the developers via the Legends 3 website. It was also announced that an early Prototype Version of the game – serving as an introduction to the full release – would be released on the 3DS eShop, and all the signs pointed to a colourful, exciting game.
Cancellations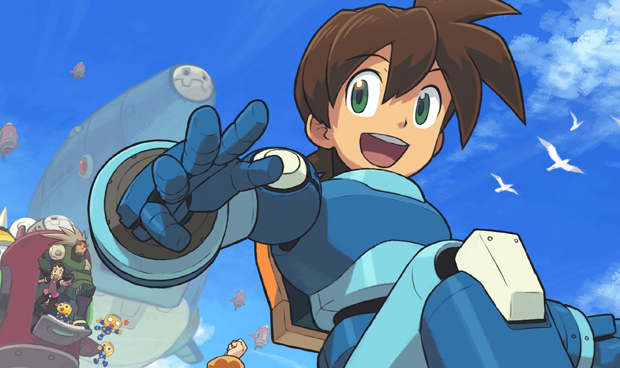 But after the cheerful unveilings and announcements of September 2010, something went very wrong behind the scenes. That November, Inafune abruptly left the company he'd been with for more than 20 years. When asked why, in an interview that took place around the time, Inafune said, "I want to work at Capcom. But, how should I say… circumstances are such that I can't work there anymore."
Elsewhere in the interview, Inafune displayed a general sense of disillusionment at the Japanese games industry as a whole, and the difficulty in selling significant numbers of anything that didn't have a Pokemon or Monster Hunter label attached to it.
Whatever happened behind the scenes on the development of Legends 3, its end came suddenly in the summer of 2011, when Capcom officially announced that neither the game nor the Prototype Version would be released. Fans reacted with dismay, and more than 100,000 of them joined a Facebook page demanding that the game be revived. Both Inafune and director Yoshiyuki Fujikawa stated their desire to help finish the project, but Capcom refused.
The cancellation of Legends 3, whether intentionally or not, also appeared to mark the temporary end of the Mega Man series as a whole; to date, the last new title to appear in the series was Mega Man 10, the download-only entry that, like its predecessor Mega Man 9, harked back to the 8-bit glory days of the earliest NES games. Since then, two other proposed games in the series were also cancelled – an MMO, Mega Man Online, and a 2D platform entry called Mega Man Universe.
The latter, in particular, was a thoroughly disappointing piece of news, since the concept outlined in its announcement trailer – of a 3D Mega Man teaming up with other characters from Capcom's history – showed real promise:
With Capcom's ongoing financial problems in recent years – and its decision to concentrate on sequels to more 'mature' properties like Lost Planet, Street Fighter and Resident Evil – it seems that, for now at least, Mega Man's adventures may be over. But could Inafune's high-project outside Capcom reverse the blue bomber's fortunes?
A new beginning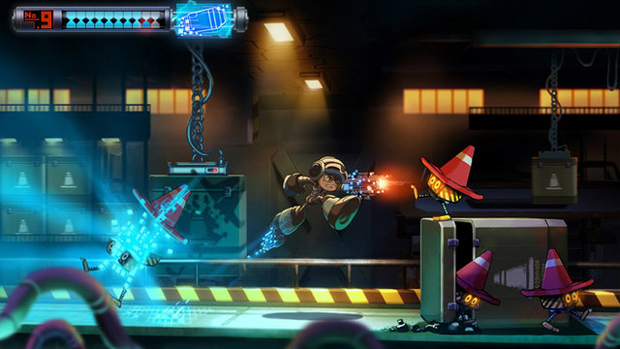 The story took a surprising and happier turn in late August 2013, when Keiji Inafune announced Mighty No. 9 – a side-scrolling action game that is clearly designed to be a spiritual sequel to Mega Man. Assembling a talented production team, including Naoya Tomita, who designed the levels on several early Mega Man Games, Kimo Kimo, the character designer from Street Fighter Alpha 3 and The Legend Of Zelda: The Minish Cap, and former Capcom artist Shinsuke Komaki, Inafune plans to revive the spirit and gameplay of Mega Man, if not his copyrighted name.
In turning to Kickstarter to fund Mighty No. 9, Inafune has been met with an overwhelmingly positive response. Within two days, the project had broken through its $900,000 minimum goal, and at the time of writing, has already amassed more than $1.2million. For the project's founder, who said in his post-Capcom interview that he'd wanted to "prove that something can sell because it was made by Keiji Inafune", it's proof that the Mega Man style of game still has a fiercely loyal following.
If Mighty No. 9 can reach its upper threshold of $2.5million by the 1st October, Inafune's team plans to port it over to the Xbox 360, PlayStation 3 and Wii U – console territory where this sort of action game arguably belongs. A Texas-based studio called Renegade Kid has even offered to port the game over to the Nintendo 3DS, which would certainly fill the handheld Mega Man gap that Capcom hasn't filled for several years.
Aside from a potentially exciting game in its own right, Mighty No. 9 is also a fulfilment of Inafune's stated intentions after leaving Capcom. Long a critical voice of the Japanese games industry as a whole, Inafune had said that game development needed a shake up, with established names like himself working with younger talent, and Japanese developers working more freely with those in other countries.
With his studio Comcept USA, Inafune's assembled just such a team, with veteran designers and artists joined by young director Koji Imaeda and former Bionic Commando: Rearmed producer Ben Judd. Mighty No. 9 finally gives fans the chance to get involved with some of the design decisions, too, after the demise of Mega Man Legends 3.
As well as a much-loved cornerstone of gaming history, the Mega Man series could also be seen as a microcosm of how the games industry works as a whole. Mega Man began as an untested idea, with the passion of its makers carrying it through the uncertainty of its financers and into a period of huge popularity. But once that popularity hit, the resulting explosion of annual sequels and spin-offs began to spread the fanbase too thinly, pushing the brand into multiple niches rather than growing its core following.
If the clamour surrounding Mighty No. 9 continues, it could mean a fresh start for Inafune and his team. And maybe, just maybe, that enthusiasm will prompt Capcom to bring Mega Man out of retirement for a new adventure of his own.