News
Microsoft Reveals Smartphone Xbox Controller Concepts
Microsoft believes that controllers are key to the future of mobile gaming.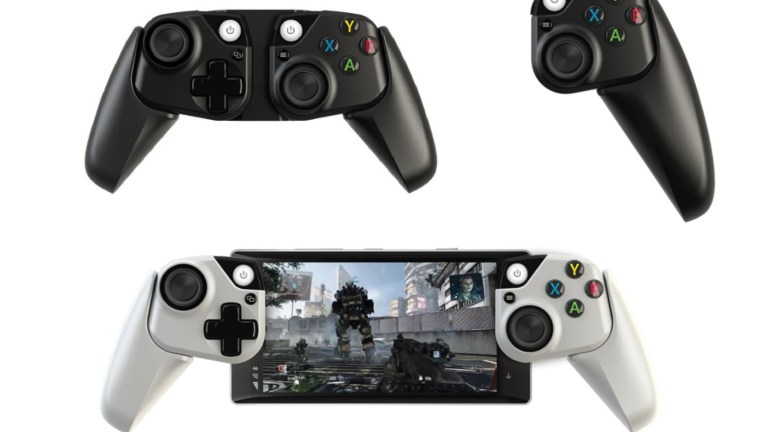 As part of their plan to bring Xbox games to mobile devices, Microsoft is developing a special controller for smartphones and tablets.
While we don't know exactly what this controller will look like, Microsoft's mock-ups of such a peripheral are quite fascinating. The company published a paper that showcases some ideas they have for this controller's design. You might think that they'd develop some kind of wireless Xbox controller that works for mobile, but it turns out that Microsoft is being much more ambitious than that. 
In fact, it looks like Microsoft is committed to the idea of a kind of "split" controller that you can attach to either side of your mobile device. While this design is far from final, it's clear that Microsoft has done quite a bit of work in pursuit of this concept. 
The mock-ups are rough, but the idea is certainly there. It seems that Microsoft is testing a much more minimal take on this concept as well as one that comes complete with controller handles. The latter version is clearly much bulkier, but it seems like more of a natural "fit" in terms of replicating the console experience. Luckily, it seems that the ultimate goal with this design is to allow people to choose whether or not they want to use the controller handles. 
In case it wasn't obvious enough, Microsoft confessed that this design and this entire concept is inspired by the success of the Nintendo Switch. 
"Mobile gaming devices like the Sony PlayStation Portable and Nintendo's DS and Switch are dedicated mobile gaming platforms which overcome these limitations via physical controls," reads a statement in the Microsoft document. "The success of the Switch is a testament to the value of mobile gaming with physical controls."
Microsoft may certainly have a point there, but it remains to be seen whether their ambitious xCloud program will really be able to bring console-quality titles to mobile devices with little latency or any other technical problems. 
Matthew Byrd is a staff writer for Den of Geek. He spends most of his days trying to pitch deep-dive analytical pieces about Killer Klowns From Outer Space to an increasingly perturbed series of editors. You can read more of his work here or find him on Twitter at @SilverTuna014. 
Read and download the Den of Geek NYCC 2018 Special Edition Magazine right here!