News
Microsoft Patents Switch Style Controllers for Mobile Gaming
Microsoft is apparently working on a better controller for mobile devices.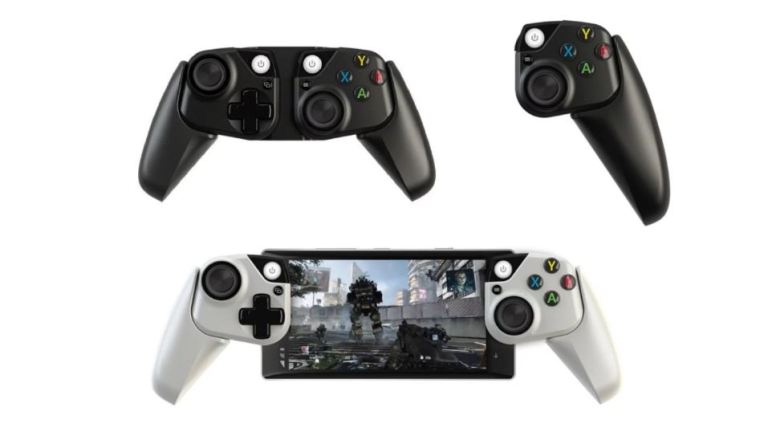 A patent recently published by the U.S. Patent and Trademark Office suggests that Microsoft is developing Switch-like detachable controllers for mobile devices. 
The concept is fairly simple (it's something that we've seen before even outside of the Nintendo Switch), but the devil is in the details. First off, these controllers are designed to obscure as little of the screen as possible. While it appears that the full-size models will cover some of the screen (meaning they're not dead ringers for the joy-con design), the overall effect of the controllers does inspire the feeling that you're playing a properly designed handheld gaming device and not a tablet or smartphone with some third-party controllers messily attached. 
That's the other notable thing about these controllers: they're not designed for just one type of device. Based on the wording of the patent (which was first reported on by Windows Latest), it seems that these are designed to easily be removed and attached from and to different types of devices. That would seem to suggest that these aren't being designed for any kind of exclusive device (such as a next-gen Xbox) but will likely be used to promote the mobile features of Microsoft's XCloud service. 
It also seems that the controllers will be charged via a kind of dock that resembles one Xbox controller when both pieces are plugged into it. It's not clear if you'll be able to use the dock as a kind of Bluetooth controller when the pieces are plugged-in, but that does seem like a strong possibility. 
Interestingly, this isn't the first time we've heard of Microsoft working on these controllers. The company previously released mock-ups of what such controllers would look like and even cited the Nintendo Switch as an inspiration. This new patent seemingly confirms that they are actually developing those designs and not just theorizing about them. 
Even if the final design of these controllers ends up looking a little different than what we've seen in these mock-ups, it's easy to believe that Microsoft is working on something similar to this concept given their recent philosophy on supporting a variety of devices and focusing on the future of cloud gaming. 
Matthew Byrd is a staff writer for Den of Geek. He spends most of his days trying to pitch deep-dive analytical pieces about Killer Klowns From Outer Space to an increasingly perturbed series of editors. You can read more of his work here or find him on Twitter at @SilverTuna014.