News
Metroid: Scrapped Cartoon Series Featured Male Version of Samus
We almost got a Metroid cartoon that featured one extreme creative change.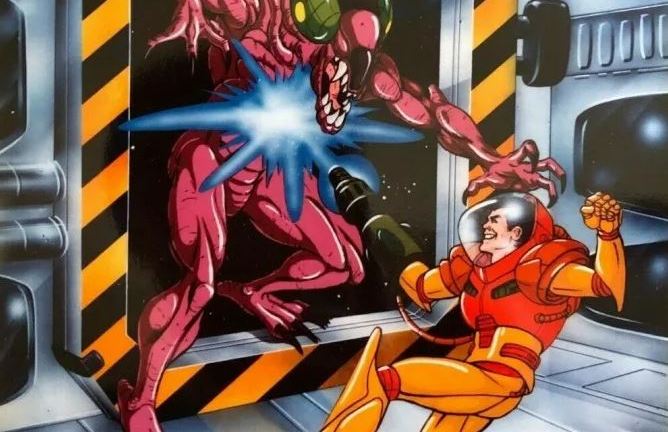 Some recently uncovered promo art reveals that someone was once working on a Metroid cartoon that featured a male version of Samus. This fascinating story comes courtesy of Kotaku, which first reported on an estate sale of a former DIC Animation City employee that includes four pieces of promo art for some Nintendo cartoons that were never made. Based on the information that's been made available so far, it seems that these pieces of promo art were drawn for something called the Super Mario Bros. Power Hour. Unless that's some strange alternate name for The Super Mario Bros. Super Show, we're guessing that Nintendo was tossing around the idea of a separate, but similar series at some point. 
In any case, one of the pieces of promo art showcases a pitch for a Metroid cartoon in which Samus Aran has been replaced by a guy in a similar spacesuit that Kotaku accurately refers to as Jake Spaceman. It should be said that these drawings were probably for pitches that never made it very far. As such, we highly doubt that Nintendo was really playing with the idea of gender swapping Samus. 
Still, there are important questions this drawing raises which we may never get the answers to. The most likely cause of this bizarre piece of promo art is that the artist, or someone telling the artist what to draw, never actually played Metroid and just assumed that Samus was a guy. However, there is always the possibility that someone was playing with the idea of producing a show with a male version of Samus for reasons we hesitate to speculate on. 
That's not the only oddity uncovered as part of this estate sale. Someone was also apparently working on a pitch for a version of Castlevania starring two kids in a Scooby-Doo-like situation. There are also pitches for a Double Dragon animated series that's different from the one that was eventually produced and a cartoon based on California Games.