News
Metal Gear Survive Contains References to Hideo Kojima
The other big boss of the Metal Gear franchise is thanked in rather stealthy ways.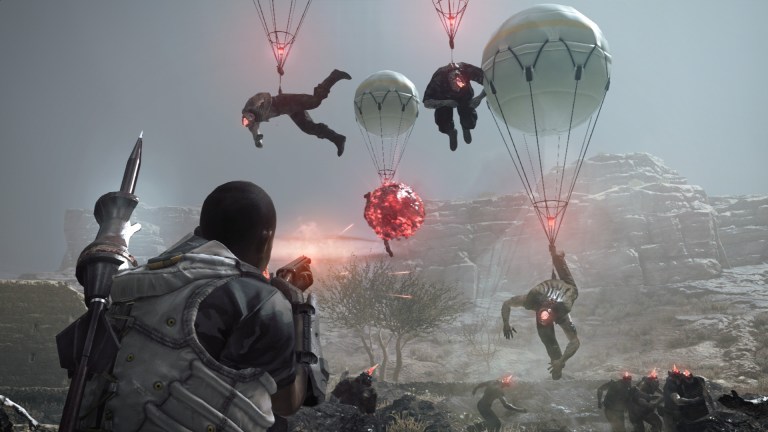 It appears that the Metal Gear Survive development team hid some messages in the game that reference the series' original creators. 
At the start of Metal Gear Survive, you are required to pick a name for your character. Your name first appears on a list of fallen soldiers who all have classic MGS-style monikors. At first, you might think that they're not worth more than a laugh, but some of the folks over on Reddit have discovered that these names might contain a quiet homage to Kojima Productions. 
Apparently, if you look at the first letter of the second name of every soldier on that list after the first two names – yes, it's a bit elaborate – then you'll discover the message "KJP Forever." KJP appears to be a reference to the aforementioned Kojima Productions; Kojima's development studio that developed the Metal Gear series up until the release of Survive. The list also contains references to Survive's director and producer. Here's a screenshot of that list with all the relevant letters and names highlighted:
That's not the only reference to Kojima and the KJP crew found within Metal Gear Survive thus far. The game's end credits include a "Special Thanks" to "Metal Gear Solid V All Staff." Naturally, that includes Hideo Kojima. It's not quite flowers and chocolates, but give how far apart Konami and Kojima were at one point, any acknowledgment of his existence in a game is at least something. 
With any luck, these messages might help restore a bit of the already thin goodwill that Survive has lost since its launch. Given the whole Kojima situation and the revelation that Survive technically charges a premium for save slots, the game hasn't exactly been attracting a lot of good press lately. 
We shared our own thoughts on Survive recently and found it to be an inventive survival-horror take on the Metal Gear franchise that is strangely addictive. Unfortunately, the game also suffers from some rather unfortunate design decisions and the fact that it features quite a few more free-to-play elements than we typically like to see in a $40 game that was already associated with greed.