News
Metal Gear Solid Movie Director Shares New Art on Twitter
Jordan Vogt-Roberts is sharing a variety of artwork in celebration of Metal Gear's 31st anniversary.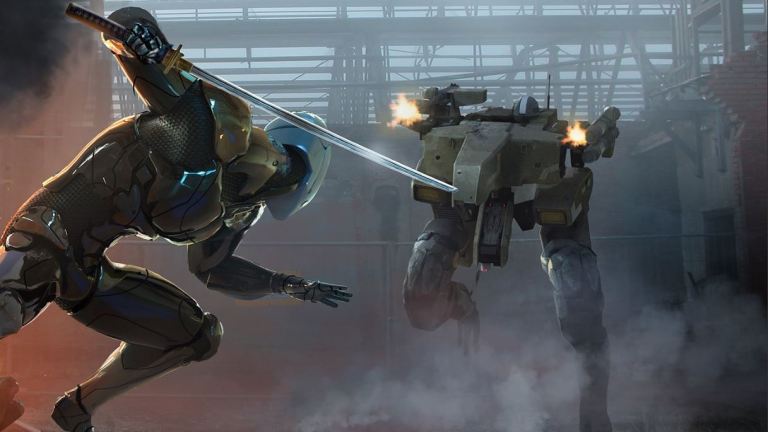 Jordan Vogt-Roberts, director of the planned Metal Gear film adaptation, is taking to Twitter to share 31 never-before-seen pieces of Metal Gear art in celebration of the franchise's 31st anniversary. 
There are no "rules" to this art, which means that it seems to be a mix of official artwork and pieces that modern artists have contributed in celebration of the series. For instance, Eddie Del Rio (who helped with some of the design of Kong: Skull Island) did a wonderful piece showcasing Cyborg Ninja squaring off against the Gekkos. Art Director Ben Mauro did a wonderful piece showing a kind of mythical/horror side of the Metal Gear Solid franchise that has previously existed somewhere on the edges of the series. 
One of the most fetching pieces, though, comes from Jakub Rozalski whose famous "sci-fi rural" art style inspired the all-time great board game, Scythe. Rozalski imagines what might happen if Metal Gear were to wander into a paddy field.
So far, none of the art that Vogt-Roberts has shared is directly tied to his planned adaptation of the franchise. What it shows, though, is both the director's love for the series and just how many artists and creators have been inspired by Hideo Kojima's legendary stealth series. You'll have to keep an eye on his feed if you want to see the rest of the images (as well as some that fans are sharing with his account). 
As for the Metal Gear Solid film, the latest updates suggest that the movie's script is finished (or at least finished for the time being). It seems that the story exists sometime after the events of Metal Gear and Metal Gear 2: Solid Snake (the first two games in the series) which means it would be closer to Metal Gear Solid in terms of the timeline. 
Can Vogt-Roberts perform the seemingly impossible task doing justice strangest, boldest, and most beloved video game franchises of all-time via a film adaptation? He's certainly got the passion needed to make it happen, but we'll have to wait and see whether that's enough.