News
Mega Man: Fully Charged Trailer and Release Date
Mega Man: Fully Charged features all new adventures starring Capcom's video game icon. Here's the first trailer...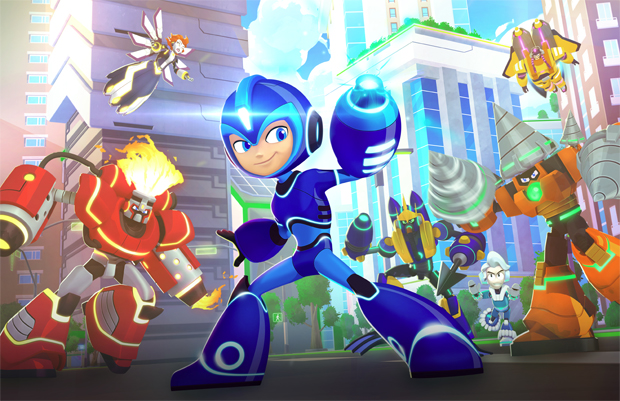 Capcom's Blue Bomber himself is set to make his animated return in Cartoon Network's Mega Man: Fully Charged.
The popular video game series, launched with Capcom's 1987 original Mega Man (known as Rockman in Japan,) and followed up by 1988's Mega Man 2 – both widely considered some of the best the original Nintendo Entertainment System had to offer – spawned an insane array of sequels, spinoffs and follow-ups across just about every platform that ensuing generations had to offer.
Indeed, the franchise also yielded a presence in just about every form of media, including a 1994 animated series, a few anime offerings in Japan, and has long been in the mix to get a live-action movie treatment. Now, Mega Man: Fully Charged arrives, ready to cement the franchise's place in pop culture.
Mega Man: Fully Charged Trailer
The first Mega Man trailer is here! Check it out below:
Mega Man: Fully Charged Release Date
Mega Man: Fully Charged teleports its way to television on Cartoon Network Sunday, August 5.
Read the Den of Geek SDCC 2018 Special Edition Magazine Here!
Read the Den of Geek SDCC 2018 Special Edition Magazine Here!
Mega Man: Fully Charged Details
Here's the official synopsis/mission statement for Mega Man: Fully Charged:
Created for kids 6 to 11, and their parents who grew up loving the video games, Mega Man: Fully Charged features exciting new technologies and robots, and the introduction of Mega Man's alter-ego, Aki Light, a normal, upbeat, schoolboy robot with nano-core technology that allows him to transform into the mega-powered hero Mega Man! With his Mega Buster arm cannon and iconic helmet, Mega Man battles the wickedest villains Silicon City has to offer. Beloved characters, such as Mega Man's robotic dog, Rush, will return – while new characters, like Mega Mini™ and Suna Light, will make their debut.
Ben 10 creators Joe Casey, Joe Kelly, Duncan Rouleau and Steven T. Seagle (the quartet behind Man of Action Entertainment) are developing the new Mega Man animated TV series for Capcom for a 26-episode run. As Executive Producer/Story Editor Kelly comments in a new statement:
"Mega Man is exactly the kind of hero we need right now. Optimistic, inquisitive and more focused on helping others and understanding adversaries than just locking them up. We love this character."
Additionally, Yuichi Kinoshita, President & CEO, Dentsu Entertainment USA, is implying that we can expect the series to inspire an array of new merchandising, stating:
"Following Capcom's announcement of the new Mega Man 11® video game, we are thrilled to be launching an exciting new animated series, Mega Man: Fully Charged. From TV and YouTube to video games and toy shelves, Mega Man will soon be everywhere kids are watching and playing."
In a press release last year, Duncan Rouleau teased how the new Mega Man animated series will contrast with the 1990s version:
"The 1990s Mega Man TV series was cool and different than other series targeted at kids during that time. It featured great action, but also brought the laughs. Mega Man is a character that is even more relevant for today's kids and we are really looking forward to creating something new that still respects the long tradition of the character."
Indeed, the Mega Man multiverse has spawned over 130 video games on multiple gaming systems, selling over 30 million copies worldwide, as well as a plethora of toys, comics and collectibles. A highly-rated Mega Man TV series was popular in the USA in the 1990s and aired for several seasons.