News
Mass Effect: Andromeda Release Date, Trailer, Latest News, & Everything Else We Know
Some much-anticipated fixes are coming to Andromeda in the coming months.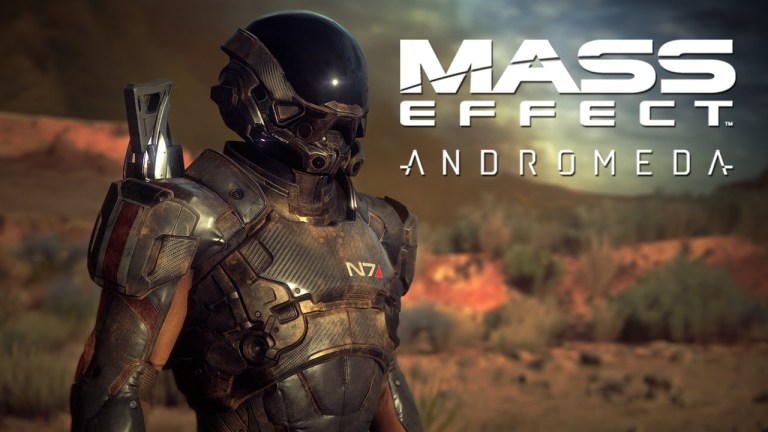 Mass Effect: Andromeda Latest News
BioWare has apparently been listening to some of the most popular complaints people have about Mass Effect: Andromeda because they've just updated the game's official site with a list of changes set to be released in the near future. 
This Thursday, BioWare plans to release an update that will include such changes as the ability to skip animations when traveling between planets, increased inventory limits, improved lip syncing, and better matchmaking. In the long-term, BioWare plans to add more character creation options, better overall animations, better conversation options with key characters, and improved romance scenes involving two male characters. 
BioWare GM Aaryn Flynn has confirmed via Twitter that Mass Effect: Andromeda's multiplayer maps will be released for free to all users. 
This statement also seems to imply that Andromeda will receive the same kind of post-launch content release treatment that Mass Effect 3 enjoyed. Most likely, this means that there will be a few different multiplayer map pack collections released for free in the months following the game's release. It's unlikely, however, that this policy extends to any additional single-player related content Andromeda may receive. 
Elsewhere, BioWare confirmed that Andromeda will allow players to select non-human multiplayer characters. 
Mass Effect: Andromeda Release Date
Mass Effect: Andromeda will arrive on March 21, 2017. The game is coming to XBO, PS4, and PC. EA and Origin Access subscribers will have a limited 10-hour trial of the game before it officially launches. The trial will be available on March 16.
BioWare general manager Aaryn Flynn confirmed on Twitter that Mass Effect: Andromeda will not have a season pass. For those who aren't familiar with what a season pass is, it's basically a one-purchase package that unlocks all downloadable content/add-ons for a particular game as the new content rolls out. Another EA game to forego a season pass was Titanfall 2. When asked about what DLC BioWare would offer for Mass Effect, Flynn simply answered that the company would talk about that at a later date.
Mass Effect: Andromeda Trailer
At some point, you're likely going to finish Mass Effect: Andromeda's single-player campaign. While you can choose to just sit in a corner and cry at that point, we feel that the better option is to explore Andromeda's multiplayer mode. This latest preview for Andromeda focuses on how the game's multiplayer will resurrect the franchise's multiplayer mode via new features and classic combat.
The official release trailer for Mass Effect: Andromeda confirms that the potentially final game in the Mass Effect franchise possesses the epic scope and intimate characterization that made the first three Mass Effect games the genre masterpieces they are. While we'll wait to see if the final product can capitalize on the large-scale narrative hinted at in this trailer, this preview is still a well-produced – minus the somewhat odd music choice – way to maintain your hype for Andromeda's impending release.
A new trailer has arrived for Mass Effect: Andromeda, featuring the best look yet at the game's combat. It's a good rundown of the different types of weapons and what's most effective in each given situation. Check it out below:
While we're mere weeks away from experiencing Mass Effect: Andromeda, BioWare has decided to stoke the hype fires just a bit more by releasing two new trailers for the game. 
The first is a cinematic preview that gives us a brief overview of the game's plot, characters, and one-liners in as stylish a manner as possible:
The second trailer serves as a surprisingly informative look at the Andromeda Initiative and the men and women who make up the intrepid group known as the Pathfinder Team. 
During the company's CES presentation, Nvidia showed off a Mass Effect: Andromeda trailer that featured another look at the game's combat as well as a new environment full of mechanized villains. The trailer also featured a look at the branching skill trees.
Take a look below:
If this Mass Effect: Andromeda trailer is to be believed, this is going to be one huge sequel. Also, there are scenes featuring wrist-mounted flamethrowers. Either one is reason enough to be excited. 
Another trailer debuted during N7 Day that gave us a few new story details about Mass Effect: Andromeda. The game teases a 600-year voyage to the edges of the Andromeda galaxy on four giant arks. "It's a one way trip," says the narrator of the orientation video. Each ark is led by a Pathfinder, who is a "a blend of elite soldier, scientist, and guide." These arks are headed towards "the Golden Worlds" located in Andromeda's Helios Cluster.
Ryder, the main protagonist of the game, is one of these Pathfinders leading these pilgrims on the journey to find a new home for humanity. Check out the orientation trailer below:
The cinematic trailer for Mass Effect: Andromeda has arrived. We get our first look at the new crew, which includes a new Asari character and there's also a quick glimpse at a Salarian. The new villain also debuted in the trailer. It's unclear if he's the character doing the narration in the trailer, but his physique isn't unlike Saren's from the first Mass Effect.
While it's been a long time since the Normandy was around, it does look like the game will feature a new ship. Also, featured in the trailer are giant mechanized monstrosities that I hope aren't Reapers.
Check out the trailer below:
BioWare dropped another trailer ahead of N7 Day (Nov. 7), which is when we'll learn a lot more about Mass Effect: Andromeda. This trailer hints at the new game's story, as space pioneers board ships to another galaxy. Check out the trailer below:
EA debuted Mass Effect: Andromeda's first gameplay trailer during a tech demo at the PlayStation 4 Pro unveiling in New York City. The trailer gives us our first real glimpse at gameplay, running in 4K, as well as introduces to Ryder, the game's protagonist. We also get a look at an alien species called the Remnant.
Check out the trailer below:
It was also revealed that the two characters you can play as are brother and sister. Said BioWare creative director Mac Walters during the demo: "We're seeing our male character, at E3 we got to see our female character. A little surprise here: These two are actually brother and sister. They both exist in the game world at the same time. If you're playing as the female Ryder, your brother is out there somewhere in the universe."
We've also met their father, according to Walters: "The character we saw two E3s ago, the N7, is actually your father. So we have got the full Ryder family revealed. We'll do names and things in the future."
The future isn't too far off. 
BioWare creative director Mac Walters revealed on Twitter that the main character's name is Ryder and can be played as either male or female. 
Bioware and EA provided Mass Effect fans a deeper look at the world of Andromeda via this E3 2016 trailer showcasing the upcoming title's cinematic side:
And here's the trailer released at E3 2015:
The game's adventure will be unrelated to everything you've played thus far with Commander Shepard, the first trilogy's hero, and takes place in another galaxy. Fittingly, a trailer was released on N7 Day 2015 and it's all about Shepard saying goodbye.
Check out the trailer here:
"You are the explorer now," Jennifer Hale, the voice of female Shepard, says in the trailer. And she follows it up by signing off, effectively ending Shepard's era of space adventures and opening up the next adventure to the players. 
"We are travelers, constantly moving forward, and looking back. Alone and as one," she says. "We have no choice but to try for our insatiable curiosity, for our fear in what should happen if we don't. You are the explorer now. We will say goodbye, and you will look back one last time, and know that wherever you go, we will be with you. This is Commander Shepard, signing off."
Nice words from Shepard. Long live the Spectre!
Mass Effect: Andromeda Story
Here's the official synopsis of the game:
Mass Effect: Andromeda takes players to the Andromeda galaxy, far beyond the Milky Way. There, players will lead our fight for a new home in hostile territory as the Pathfinder – a leader of military-trained explorers. This is the story of humanity's next chapter, and player choices throughout the game will ultimately determine our survival.
Mass Effect: Andromeda Aliens
Joel MacMillan, an art director for BioWare, has revealed Mass Effect: Andromeda's newest race, the Kett.
During an interview with Game Informer, MacMillan stated that the intent behind the visual design of the Kett was to introduce a race to the game that invokes a sense of dread, but isn't necessarily "ugly."
"As much as we wanted to make them look new or different or alien, you're always going to want to associate to them in some way," said MacMillan. "There's a really odd disconnect with trying to associate with an alien that is completely naked in front of you."
Macmillan goes on to describe the Kett as an "organic" species that may not necessarily pose an immediate threat to the player when they encounter them. 
Game Informer's latest feature story on the development of Mass Effect: Andromeda (as summarized here by IGN) also reveals some of the most substantial details regarding the game's plot that we've heard yet. According to their feature, the goal of the Andromeda initiative on the outset of the game is to create four arks that will carry different species in search of a new home. Players will begin Andromeda as the child of the human ark's leader. 
Things really kick into gear when the ark carrying humanity gets lost somewhere along the way. This appears to be the point where the player's role as leader of their party truly begins. 
Mass Effect: Andromeda Gameplay
The game will feature more customization than past installments (hopefully something as detailed as the original Mass Effect) as well as destructible environments and boosted jumps. The game will also include a multiplayer mode:
Fight with your Pathfinder Team In Battle Against Terrifying Enemies and Creatures

New additions like destructible environments, boosted jumps for added verticality, and all-new weapons and Biotics make combat more thrilling than ever

Build a Formidable Hero With Amazing Weapons, Powers and Tech

With a much more flexible skill and weapon progression tree, you can replicate your play style to make you unstoppable against new, powerful alien enemies

For 1 player or up to 4 in multiplayer mode
Game Informer also reports that loyalty missions will return in Mass Effect: Andromeda. These character-specific quests were first introduced in Mass Effect 2 for the purpose of fleshing out your squadmates' backstories. While these quests did not return in the third game, they will show up in the new saga.
Said BioWare creative director Mac Walters:
I loved the loyalty missions. As a writer, one of the things I loved was the freedom to say 'I know this character is coming along,' so they can carry a lot of the narrative. That made my job easier, but it also made it more fun, because I could tell a more specific story in one of those missions." That philosophy is carrying over to Mass Effect Andromeda, along with the spirit of experimentation that these missions have; the development team can use loyalty missions to play with some non-standard gameplay elements, and have some extra fun with the dialogue.

The big difference between this and ME2, where you did a loyalty mission and that all impacted the ending, is that they're much more optional in this case. If you don't want to engage with them, you don't have to. If you want engage with them after the critical path is done, you can do that.
In an interview with Game Informer, BioWare's Ian Frazier suggested that Andromeda's multiplayer isn't going to be a mandatory experience. 
"You will have possibilities to send teams to complete kind of side missions, or to do it yourself in multiplayer. That's the idea," said Frazier. "If you feel cheated, we've done something wrong."
This leaves the door open for the possibility that Andromeda's multiplayer will be able to impact the single-player in some way, but that they're trying to avoid having it feel as important to the overall experience as it was in Mass Effect 3. Additionally, Frazier confirmed that the multiplayer in Andromeda is going to be far more dynamic than it has been in the past. Rather than emphasizing duck and cover gameplay, Andromeda will afford players multiple options for finishing the fight. 
According to producer Mike Gamble, scaling back on the impact of the game's multiplayer doesn't mean that the team is scaling back on the rest of the game. Instead, he goes so far as to suggest that Andromeda is the largest BioWare game to date. 
"This is the biggest we've ever gone, in terms of the number of pieces of content," said Gamble. "Although we have a lot of different areas to go to, we want to make it so whenever you go to those areas, you remember them."
Gamble didn't reveal the full scope of the experience but did mention that gameplay will consist of much more than just combat missions. Instead, players will be tasked with a variety of objectives designed to ensure that every section of the game has an identity of its own. 
BioWare has hinted that they have plans for Andromeda beyond the game's initial release, but have refrained from providing specifics regarding what the post-game content will look like. However, we now know that it may very well involve decisions made during the course of the campaign. 
In an interview with Game Informer, BioWare creative director Mac Walters encouraged fans to hold on to their Andromeda saves after completing the main story.
"I don't think it would hurt to keep them," said Walters on the subject of game saves. "Right now, to be honest, we are focused on this game, and as I've said to people before, we very much think of Andromeda as a series. What we do with that series is TBD at this point…But that said, key elements like the Pathfinders, even the Ryders themselves, those are things that are going to make another appearance in the next game." 
Walters also noted that the development team made it a priority to ensure that Andromeda features a satisfying ending. He said the upcoming ending falls between the "big, bold" ending of the first game while also incorporating some of the variation of the second installment's conclusion. 
Mass Effect: Andromeda Details
For those hoping to play Mass Effect: Andromeda on the Nintendo Switch, BioWare has some bad news: there are currently no plans to port the game to the Big N's new console. 
"We're not planning on it," producer Michael Gamble told Stevivor. Gamble did clarify that BioWare would consider developing a Switch version of the game if there's a demand for it. "If the Switch launches and everyone's just yammering for Mass Effect, who knows. [sic] We never want to close doors like that."
It sounds like time will tell. 
Mass Effect: Andromeda Screenshots
IGN has released new screenshots of the game. Check them out below:
[gallery:0]
Mass Effect: Andromeda Deluxe Edition
Best Buy jumped the gun before the trailer arrived on N7 Day. The retailer revealed the box art for both the PC and deluxe edition console versions of the game. Check them out below: