News
Mario+Rabbids: Kingdom Battle Trailer & Release Date
One of the strangest crossovers ever actually looks like a solid strategy experience.
Mario+Rabbids Kingdom Battle News
Ubisoft officially unveiled this strange crossover at E3 2017. With the help of Shigeru Miyamoto himself, the studio explained that this is indeed supposed to be an absurd title in terms of premise and humor.
The first gameplay trailer for the game revealed that Kingdom Battle is best thought of as a much more lighthearted take on the X-Com series.It's a turn-based tactical experience loaded with various types of enemies, a plethora of weapons, and tactics that surprisingly extend beyond point and shoot. In fact, cover and positioning look to play a huge role in this game.
We're willing to bet that Kingdom Battle will not feature X-Com's permadeath system, but the first footage of the game did include a surprising amount of fresh mechanics that liven up the usual gameplay found in this genre. The title's usage of character-specific super powers was particularly impressive and seemed to utilize the ridiculous nature of this game quite well. 
All in all, this absolutely absurd game actually looks kind of impressive. We look forward to bringing you more on this title as additional information becomes available.
Mario+Rabbids Kingdom Battle Release Date
Mario+Rabbids Kingdom Battle will release on August 29, 2017 for Nintendo Switch.
Mario+Rabbids Kingdom Battle Details
Nintendo and Ubisoft are reportedly working on a crossover RPG game featuring Mario and the Rabbids from the Rayman franchise that is set to release for the Nintendo Switch sometime in either August or September. 
This information comes from Kotaku who claim to have received art assets for the supposed title. The information they received seems to point to a kind of turn-based RPG that will reportedly feature co-op combat. It's not entirely clear if the game will be designed similarly to previous Mario RPGs, but the information revealed thus far does seem to suggest that you will be able to play as Mario, Luigi, Peach, Yoshi, and four Rabbids wearing costumes that resemble those character's classic designs. 
The rumored name of the game is Mario+Rabbids Kingdom Battle, and it is supposedly being developed by Ubisoft. 
Rumors of a supposed Ubisoft/Mario crossover first emerged shortly before the full reveal of the Nintendo Switch. There wasn't much to go off of at that time, but these new reports seem to suggest that the title may have been in development for quite awhile. 
As many of you know, Mario is no stranger to crossovers or RPG adventures. The character's role-playing escapades began with the Super Nintendo's Super Mario RPG – one of the console's greatest games – and continued with the Paper Mario series. Nintendo also developed a portable Mario RPG franchise that began with the stellar Mario and Luigi: Superstar Saga for the Game Boy Advance. 
If this concept is new to you and you can't help but think that this all sounds a little strange, take comfort in the fact that these games have always prided themselves on their strangeness. The Mario RPG games are known for their odd sense of humor and nonsensical take on classic RPG adventures. 
That odd sense of style is on full display in what appears to be the first pieces of leaked artwork from Mario+Rabbids Kingdom Battle: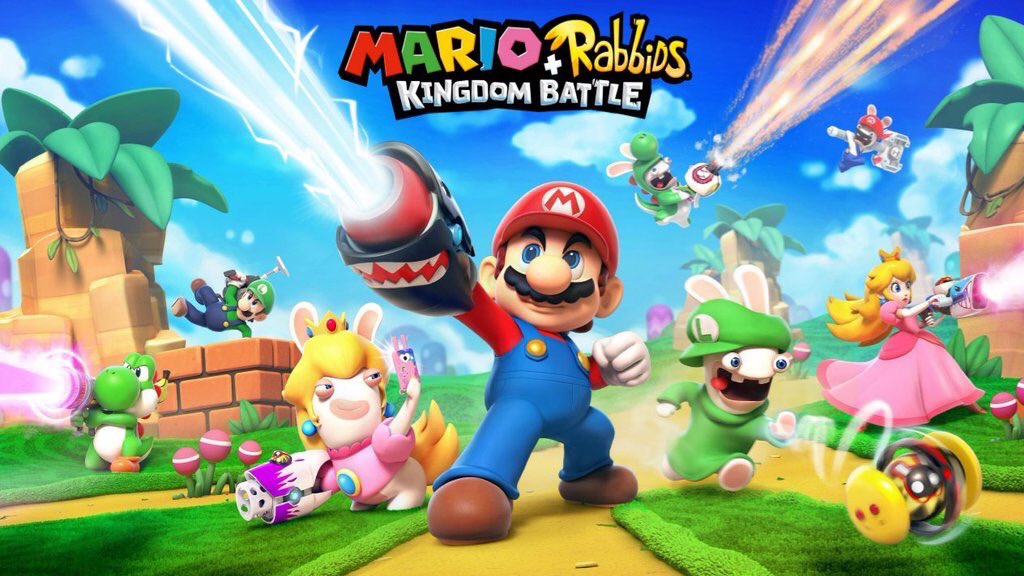 If you are equally confused by this overwhelming piece of art, then you'll want to reference this Tweet which contains what seem to be slides from a Mario+Rabbids Kingdom Battlepresentation. These slides elaborate on elements of the gameplay – the game is described as 65% turn based combat and 35% exploration – and further emphasizes the game's downright bizarre sense of humor.