News
Mario Kart Easter Egg Appears on Google Maps
Watch out for that blue shell on 2nd Street and Ave. A...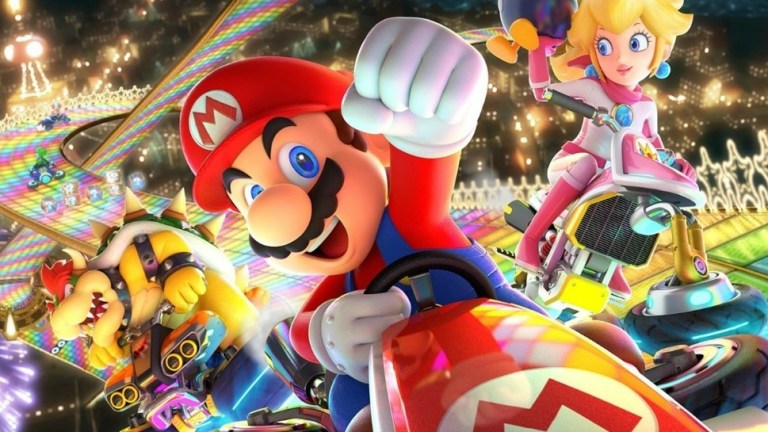 Nintendo and Google have teamed up to celebrate National Mario Day (which is actually March 10th) with a special Google Maps tribute to Mario Kart. 
From now until March 17th, you'll be able to replace the standard Google Maps navigation arrow with 3D image of Mario driving his kart around the streets of the world. You will need to update your app in order to access this feature, but doing so should trigger a prompt that requests permission to replace the standard tracker with Mario. From there, you'll just need to click on the yellow "?" block that appears in order to enjoy the temporary mode. 
Given that Google teased this feature by showing those trademark bananas on a city street, there's some debate regarding whether or not this navigation icon switch is the full extent of the features this update provides. Users are currently digging into the new mode trying to see if they can spot any additional Easter Eggs. We can only hope there isn't some hidden blue shell waiting to knock you off your navigational path. 
Oh, and if you're wondering what March 10th has to do with Mario day…well, it's because of MAR10.
This is a fun little feature that seems to be especially relevant given that Nintendo has recently revealed their intentions to release a Mario Kart game for mobile devices. There aren't many details available for Mario Kart Tour at the moment, but this feature does open up some fascinating possibilities regarding how GPS can be utilized to allow mobile Mario Kart players to race on real-world streets or utilize some other kind of AR features. Granted, that's all speculative, but most Nintendo mobile games do change the formula of the original titles somewhat to accommodate mobile features. 
Meanwhile, we imagine that Android fans are just happy to see this collaboration as it might mean they won't have to wait for months to get a copy of Mario Kart Tour on their devices. The only thing we can say for sure is that Mario Kart Tour should be released sometime between April 2018 and March 2019 according to fiscal projections.