News
Madden 19: EA Says Censoring Colin Kaepernick's Name Was a Mistake
Apparently, EA didn't mean to censor a Madden NFL 19 reference to the controversial quarterback.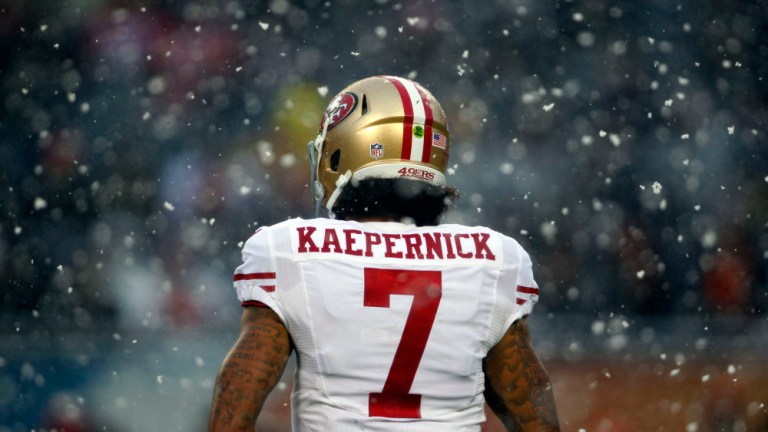 Colin Kaepernick's name was censored in Madden NFL 19, and EA is insisting it was an honest mistake. 
This controversy started when Twitter user Mr. Changing Lives noticed that the song Big Bank by YG featured a strange piece of censorship. Whereas the original version of the song featured the lyrics "You boys all cap, I'm more Colin Kaepernick," the initial Madden 19 version of the song simply said, "You boys all cap, I'm more." As you can see, the name of former NFL player Colin Kaepernick was removed from the lyrics. 
Why is that significant? Well, Colin Kaepernick became the source of a great debate in 2016 when he started kneeling during the national anthem at NFL games in protest of police violence and racial issues in the United States. Since then, Kaepernick opted to leave the San Francisco 49ers and has not yet been signed by another NFL team. Some, including Kaepernick, believe that the reason that he has seemingly been unofficially kicked out of the NFL is that he elected to protest. 
Since the omission was first spotted, EA has reached out to ESPN to let everyone know that the bleeping of Kaepernick's name was a mistake related to confusion over player's rights agreements. They state that they intend to replace the current version of the song with the original version of the track starting on August 6th. 
There are reasons to believe that this whole thing was indeed an honest mistake. First off, Kaepernick has appeared in previous Madden games since the controversy surrounding him began. He was even referenced in-game by the announcers in Madden NFL 17. As such, it's clear that the Madden team hasn't been trying to scrub Kaepernick from their games right from the start. 
Still, with increased political pressure on the NFL related to the growing trend of players protesting the national anthem, you do have to wonder if there was perhaps someone somewhere who hoped to quietly squash the reference without anyone noticing.