News
Luigi Not Dead After Facing Castlevania's Grim Reaper, Nintendo Confirms
Luigi, Mario's ghost hunting brother, appeared to be viciously murdered by Castlevania's Grim Reaper, Nintendo says that's not the case.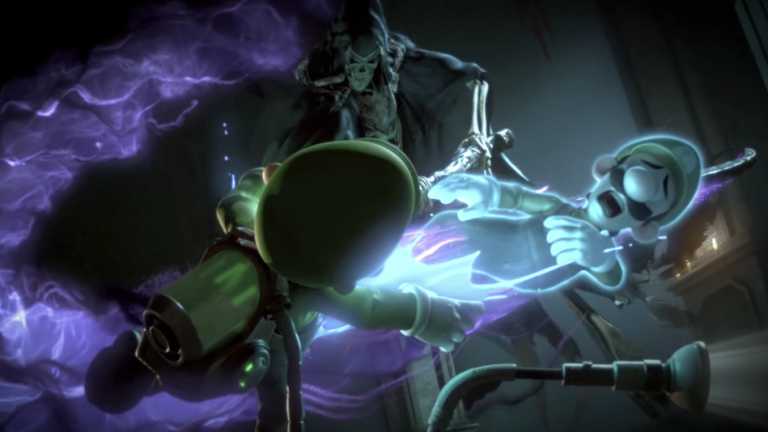 Waluigi isn't the only Nintendo character you need to worry about. It's with a heavy heart that we have to inform you that another beloved character just got the ax (or scythe, in this case) and this one really hurts. Luigi, Mario's beloved ghost-hunting brother, met his end at the hands of the Grim Reaper from Castlevania in the latest Super Smash Bros. Ultimate trailer, which also revealed that Simon Belmont was joining the fighting game. The Italian plumber was only 35 and will be sorely missed. 
You can watch the full trailer below:
Here's the gruesome moment as an endless and painful gif for you masochists out there:
The harrowing scene unfolded when brave Luigi entered Dracula's castle to hunt down the ghouls that haunt the ancient structure. After putting up a brave fight that even famous vampire hunter Simon Belmont would applaud, Luigi came before Death itself. There was no escape for the poor hero, who suffered a killing blow that sent his soul flying out of his lifeless corpse, becoming the very supernatural specter he swore to vacuum up. 
Nintendo doesn't seem to be playing around. Waluigi should count himself lucky that he's not in the Big N's cruel sights. Luigi wasn't so fortunate.
All jokes aside, Nintendo's first sibling is doing just fine. Don't believe us? Nintendo UK is here to reassure you:
It's just a promo, and Luigi's unfortunate "death" is used to illustrate the dangers of the haunted castle and Simon's badassery. The ghostbusting plumber is still set to appear as one of the game's more than 60 fighters.
So, rest easy. Luigi will rise from the grave…
Super Smash Bros. Ultimate arrives on Dec. 7 for Nintendo Switch.