News
Lindsay Lohan Loses Another Court Battle Over a GTA Character That Kind of Looks Like Her
The court of appeals rules that Grand Theft Auto V's girl in a red bikini could be any blonde actress.
Years ago, actress Lindsay Lohan tried to sue Rockstar Games for supposedly using her for one of the Grand Theft Auto V's featured promotional imagines. Here's a comparison of the promotional image and the picture of Lohan in question (courtesy of Kotaku):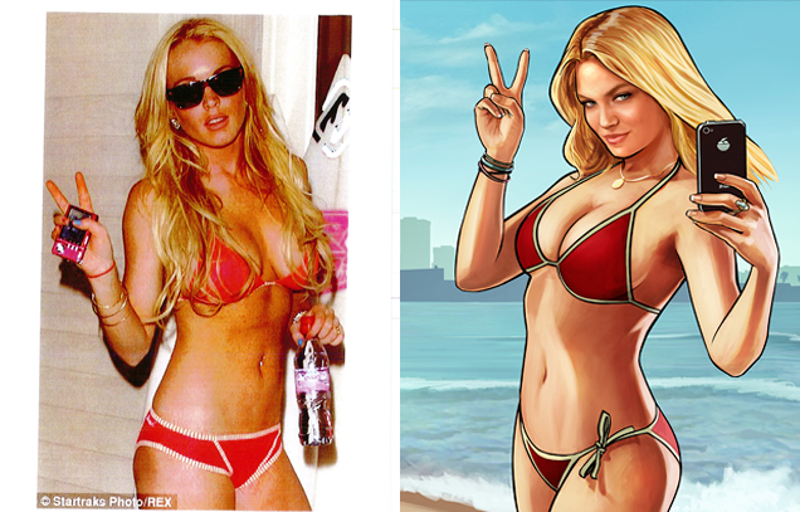 Back in 2016, a panel of judges ruled that Lohan's – and Mob Wives star Karen Gravano who was also filing a suit against Rockstar – lawsuit was "without merit" because her name and image weren't directly used in the game. Yesterday, the New York Court of Appeals agreed with that original ruling and rejected Lohan's right to an appeal. They stated that the character in question was a generic representation of a twenty-something woman whose physical features bore no striking resemblance to Lohan's. That seemingly brings an end to this entire affair. 
Why does any of this matter? Well, it doesn't. At least not in a global sense. However, the entire suit is more interesting than you might initially think it would be simply because Lohan's claim has a weird kind of merit to it when you really look at the particulars of the situation. 
See, the crux of Lohan's argument was the GTA character's use of the peace sign. Apparently, Lohan used that quite a bit in several photos over a short period of time. There was also the matter of the character herself, Lacey Jonas, who was described as an actress and singer who is most famous for her work in high school movies. That, combined with her look and pose, does sound quite a bit like Lindsay Lohan if you stop and think about it. 
Ultimately, though, what this whole thing came down to is that famous disclaimer pertaining to how "any resemblance coincidental." If Rockstar had designed a mission or plotline involving Lacey Jonas going through some very Lohan-specific type scenarios, then Lohan might have been able to argue that the resemblance goes beyond coincidence. The same could be said if Lohan's name – or some kind of obvious version of it – was used in the game. 
As that's not the case, Lohan finds herself in the familiar position of being just a bit too generic to make any kind of meaningful money for herself. Sorry Lindsay, looks like you won't get a slice of the billion dollar GTA pie.