News
LIGHTSYNC PC Gaming Speakers: A New Level of Immersion
Immerse yourself in the next generation of sound with Logitech's G560 LIGHTSYNC PC Gaming Speakers!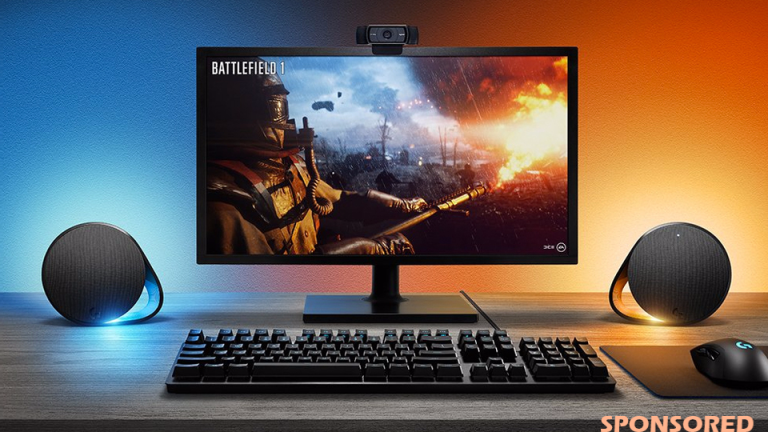 Logitech G's G560 LIGHTSYNC PC Gaming Speakers feature LIGHTSYNC tech: an exclusive next-gen technology fueled by Logitech Gaming Software (LGS). With LIGHTSYNC, you'll see your in-game actions shown off through intelligent RGB lighting that fills your gaming area with approximately 16.8 million possible colors, creating an unmatched level of enjoyment and immersion.
LIGHTSYNC is currently compatible with many of your favorite games (over 300 as of now), and its library is constantly growing. It's also a breeze to setup custom lighting profiles for each game you own, and you can use the Screen Sampler feature to splash colors across four different zones regardless of if you're gaming, watching videos, surfing the web, or anything in-between. For music buffs, you'll have access to gorgeous rainbow lighting effects emanating front and back of the speakers while you play your songs.
LIGHTSYNC is just one of the many benefits that come with the G560 LIGHTSYNC PC Gaming Speakers. In addition, they offer 240 Watts Peak and 120 Watts RMS of raw power, providing exceptional clarity through the two satellite speakers in conjunction with deep, thundering bass thanks to the down-firing subwoofer. There's also DTS:X Ultra surround sound, which provides amazing positional audio through a 3D soundscape, further enhancing realism in games. That means you'll hear enemies sneaking up from behind, gunshots echoing off canyons, waterfalls cascading from above, and swords clanging against your allies' shields. DTS:X Ultra is also a boon for multichannel music, as it turns 5.1 or 7.1 encoded tracks into a multi-dimensional soundscape.
Looking for an easy way to connect multiple devices? No problem. You can use USB, 3.5mm, and even Bluetooth. Even better, Logitech G's Easy-Switch tech lets you seamlessly swap back and forth between up to four connected items. With LIGHTSYNC support, high-end construction, topnotch positional audio, and versatility and ease in connecting numerous devices, it's as good a time as ever to upgrade your system to the G560 LIGHTSYNC PC Gaming Speakers.