News
Leisure Suit Larry: Wet Dreams Don't Dry Could be the Most Offensive Game of 2018
There's a new Leisure Suit Larry game in development, and it looks pretty bad.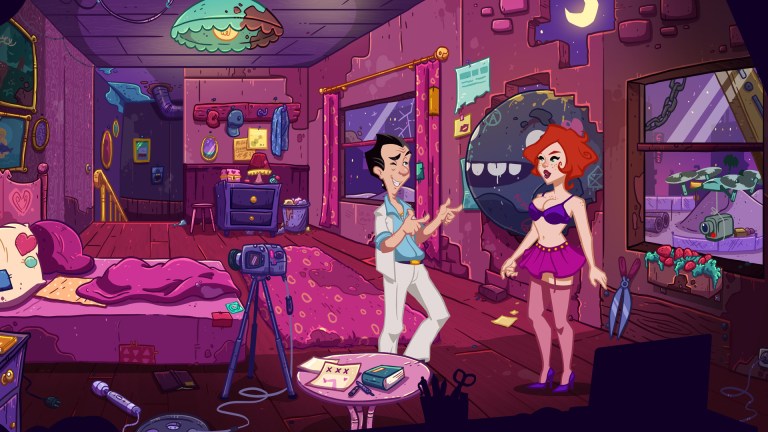 There's a new Leisure Suit Larry game in development, and there are plenty of reasons to believe that it will be the most offensive game of 2018.
Leisure Suit Larry: Wet Dreams Don't Dry – which we can all agree is just a lazy title- is currently in development from a German studio named CrazyBunch and is set to release in autumn 2018 for PC and Mac. A press release from the studio reveals that this game will see Larry travel from the swinging, cocaine-driven world of the '80s to the modern age. There, he must navigate the world of "#metoo and online dating via smartphone." 
While we're not too familiar with the works of CrazyBunch, we can safely assume that they're adept pyromancers because they clearly have no fear of playing with fire. 
If you're hoping that this game will be a clever examination of the differences between the golden era of Leisure Suit Larry titles and the modern age, we've got some bad news for you. The rest of the Wet Dreams Don't Dry press release is written from the perspective of Larry and includes such humor as a dating app called Timber, a social media app called Instacrap which Larry uses to cruise for bikini pics, and Larry's observation that his world and the modern one collide harder than "the breasts of a lusciously stacked blonde jogging along a beach."
Without completely dismissing this game before it's released, the tragic thing about everything that we've seen from Wet Dreams Don't Dry is that it's clear that the developers don't really understand how this concept could work as a clever parody of the entire idea of Leisure Suit Larry games existing in the first place. Instead, it pretty much looks like a new Leisure Suit Larry game that only nods at the absurdity of such a game existing at all. 
It's also entirely possible that the developers just aren't clever enough to capitalize on the true humor of this absurd concept. Based on the jokes included in the press release, we're actually going to bump that possibility up to a likelihood.