News
Lego Marvel Superheroes 2 Trailers, Release Date, and Latest News
Holy Russian accents, Marvel equivalent of Batman!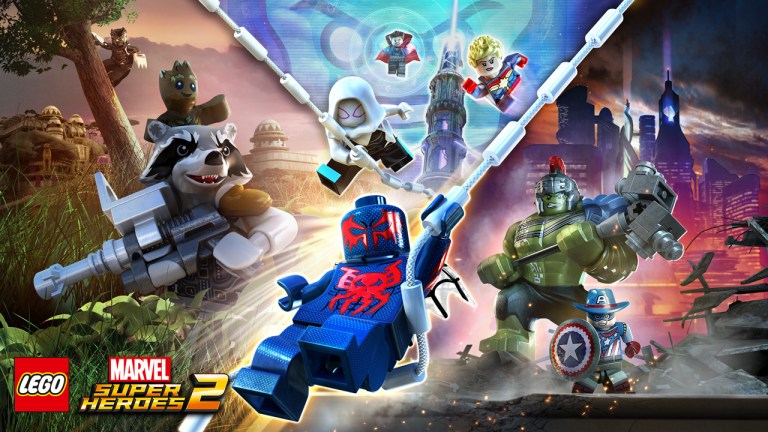 Lego Marvel Superheroes 2 Latest News
The latest trailer for Lego Marvel Super Heroes 2 has us asking, "How strong must a fake Russian accent be before it's just kind of offensive?"
The narration stylings of Cosmo the Spacedog aside, we've recently learned that Lego Marvel Super Heroes 2 will feature a Season Pass system that will ultimately include six level packs and four character packs. The level packs will all relate to recent Marvel films and TV series, while the character packs include such heroes as the classic Guardians of the Galaxy and Agents of Atlas. 
The Season Pass will retail for $14.99.
Joining the game's main roster are Grandmaster (Thor: Ragnarok), Valkyrie (Thor: Ragnarok), Arizona Annie, Blade,Captain Avalon, Charlie-27, Chipmunk Hunk, Dormammu, Ghost Rider & Hell Cycle, Hellcow, Hobgoblin, Hulk 2099, Koi Boi, Lady Spider, Luke Cage, Misty Knight, Morbius, Phantom Rider, Red Wolf, Living Totem, Squirrel Girl, Super Adaptoid and Ursa Major.
Lego Marvel Superheroes 2 Trailer
The official trailer for Lego Marvel Superheroes 2 is here:
This trailer confirms that Kang the Conqueror will be handling all lead villain duties for this sequel as he attempts to undo the otherwise flawless continuity of the Marvel universe through various space-time shenanigans. Various incarnations of Marvel's greatest heroes and villains make cameos throughout the trailer, but we're still waiting for TT Games to confirm the full roster. 
Lego Marvel Superheroes 2 Release Date
Lego Marvel Superheroes 2 will be released on November 14, 2017, for PlayStation 4, Xbox One, and PC. The Switch version of the game doesn't have a release date, but TT Games says it should be available sometime this holiday. 
Lego Marvel Superheroes 2 Reveal
Warner Brothers Interactive Entertainment and developer TT Games have announced that they are developing a sequel to Lego Marvel Superheroes. 
You can get a brief first look at the game via the Guardians of the Galaxy-themed teaser trailer below:
The original Lego Marvel Super Heroes was released in 2013 around the height of the Lego game movement. Much like the other Lego games developed by TT (formerly known as Traveller's Tales), it didn't stray too far from the formula that helped the Lego game franchise achieve global success. Still, Marvel Super Heroes is considered to be one of the top-tier Lego games largely by virtue of its stunning roster which includes an incredible mix of known and obscure Marvel heroes. 
For Lego Marvel Superheroes 2, TT is going to go the Turtles in Time route by stretching the adventure across multiple eras. Lego Marvel Super Heroes 2 is based on the premise that Kang the Conquerer has ripped open a few terrestrial portals which seem to be causing havoc in time and space (which, let's face it, rarely are at peace in this universe). 
The brief statement that Warner Bros. released to accompany this teaser trailer suggests that the playable time periods will include such locations as Ancient Egypt, the Old West, the planet Sakaar from the Planet Hulk series, and New York City circa 2099. While Warner Bros. and Telltale aren't quite ready to reveal the game's full roster (which will likely include over 100 characters), they did note that Thor, Hulk, the Guardians of the Galaxy, Black Panther, Captain Marvel, Doctor Strange, Green Goblin, and various other villains and heroes will be playable in this sequel. 
Warner Bros. and TT have promised to release a full trailer for the game on May 23rd. As for the game itself, Lego Marvel Superheroes 2 will be released on November 14th for PlayStation 4, Xbox One, and PC. A Switch version of the game will be released shortly thereafter.