News
Leaked Art From God of War Team's Cancelled Sci-Fi Game
Here's a glimpse at what could have been before Sony Santa Monica was hit by layoffs.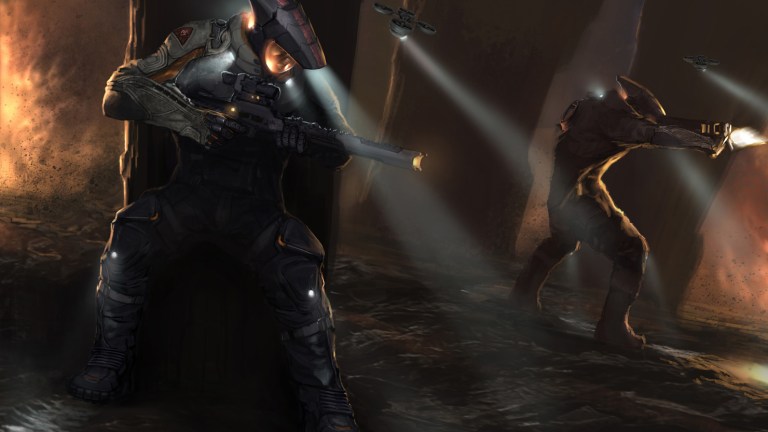 Three years ago, God of War development studio SIE Santa Monica Studio was hit with a surprising series of layoffs. The news was unfortunate enough on its own for the many who lost their jobs because of the decision, but it also impacted gamers who would soon learn that the studio was working on a mysterious new sci-fi project before the layoffs forced the cancellation of that title. 
As such, nobody outside of Sony Santa Monica has really seen or heard any concrete information regarding the game that the studio was apparently working on. That is until now. 
The website Nerdleaks originally posted what they claimed was art from the canceled Sony Santa Monica game. The images they posted have since been removed, but IGN has found an Imgur page which contains the full collection. Allegedly, these come from an artist who worked on the game prior to its cancellation.
Much more than just a couple of sketches, the recently revealed full collection of designs suggests that this canceled game was pretty far into the conceptual phase before it was nixed. There's a trace of Mass Effect in the game's style, but there also appears to be a unique influx of an almost Mad Max-esque "rough" sci-fi design which suggests some kind of apocalyptic element. 
Nerdleaks claims that the game would have been set sometime in the 2030s and would have emphasized world exploration. Players would have been able to scan and log a variety of items and creatures they found on these planets, but it seems that all of this would have been in service to a mysterious narrative mission codenamed "Ark Mission Genesis – A.D. 2034."
Unfortunately, that's about all that anyone knows – or is willing to say – regarding the canceled project at this time. Sony Santa Monica certainly isn't talking about this abandoned project any longer as the studio's current team is hard at work on the next God of War game.