News
League of Legends Getting Fighting Game Spin-Off Known as Project L
Project L turns League of Legends into a fascinating fighting game.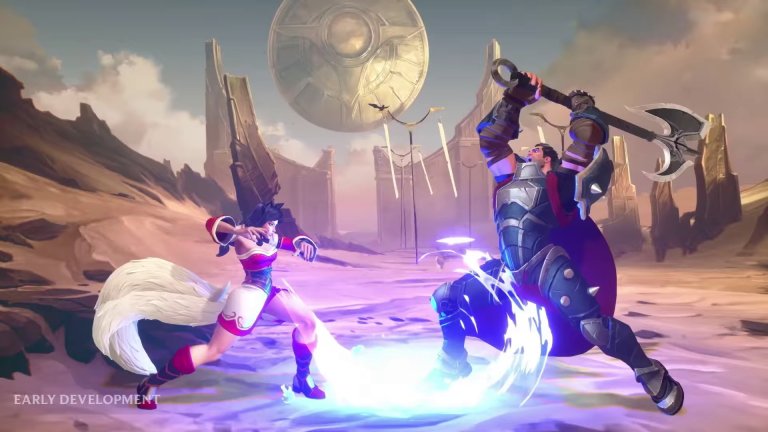 The League of Legends team is working on a fighting game spin-off of that popular MOBA title that is currently only being referred to as Project L.
Like some of Riot Games' other recent announcements, we don't know much concrete information about Project L at this time beyond the little that Riot shared as part of League's anniversary festivities. The brief look at the game that we were treated to almost seems to suggest that it will be a 2D or 2.5D fighter, but that is purely speculative at this time. 
What's not speculative, and what's so interesting about this project, is its ties to the League of Legends universe. It appears that you can expect Project L's roster to consist entirely of (or at least largely of) characters from League of Legends. Riot noted that they want to showcase the champions from that game in a new way via this style of gameplay. 
That's what makes this project feel like such a natural transition for League of Legends. That MOBA's characters all feature fairly unique fighting styles and skillsets, which means that it's possible for Project L to launch with a deep roster of recognizable characters that offer an array of moves. Simply put, League of Legends was made to be a fighting game. 
That does kind of seem to be the point here. Riot has apparently been interested in making a fighting game for a long time, and while it sounds like it's going to be quite a while before we see more of Project L, it really does sound like the team is committed to this game and are willing to devote quite a few resources to it in order to ensure its success. 
So while Project F feels like an entirely new venture for Riot, Project L (these games could sure use some real names…) just makes sense for the League of Legends developers. We'll let you know more about this game as additional information becomes available. 
Matthew Byrd is a staff writer for Den of Geek. He spends most of his days trying to pitch deep-dive analytical pieces about Killer Klowns From Outer Space to an increasingly perturbed series of editors. You can read more of his work here or find him on Twitter at @SilverTuna014.