News
League of Legends eSports Schedule, Standings, Format, & Everything Else We Know
One of the world's largest eSports tournaments has begun. Here's what you need to know: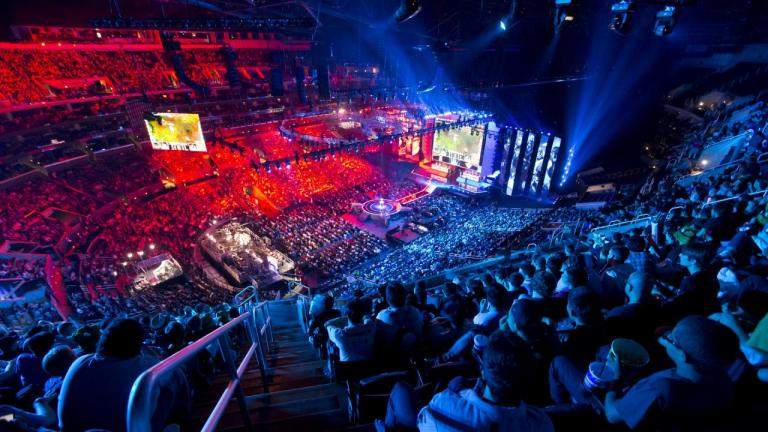 There's nothing quite like League of Legends eSports scene. The fact that League is one of the most popular games on the planet is never more evident than when you're watching the best players in the world utilize a combination of perfect teamwork and inhuman individual skills in front of a rowdy audience. This MOBA has become a bonafide phenomenon with a professional competition that attracts millions of viewers. 
Now, League's 2018 competitive season has begun.
What begins as a world's worth of top teams vying for the top spots of the Spring and Summer Split seasons will soon transition into the tense tournament known as the League of Legends World Championship. League's Championship finals are famous for being some of the most unpredictable and compelling series of games in the world. It's a spectacle you do not want to miss. 
Whether you've been following LoL since the beginning or you're looking to understand why this game has captured the world's imagination, we're here to keep you updated on the comings and goings of the 2018 competitive season. 
Here's a guide to League of Legends eSports in 2018:
League of Legends eSports Live Stream
You can watch every League of Legends eSports match across every region by checking out our live stream!
League of Legends World Championship Format
It's a long road to the League of Legends World Championship, but here's a rough breakdown of how you get there. 
The first thing you need to know is that there are actually several competitive LoL leagues spread throughout the world. However, the biggest leagues are the NA LCS, EU LCS, League of Legends Champions Korea (LCK), League of Legends Pro League (LPL, China), and League of Legends Master Series (LMS, Taiwan, Hong Kong, Macau). These leagues are complemented by several smaller organizations in other regions. 
Each competitive season is divided into the Spring and Summer splits. Teams from major regions are competing for championship points throughout the season in order to improve their standings and perhaps earn a playoff berth. However, the best way for teams to earn a World Championship playoff berth is to win the Summer split playoffs. Regardless of what region a team plays in, that will automatically secure its spot. Teams from larger regions can also make it to the World Championship playoffs via their play in regional qualifiers or by having the most championship points at the end of Summer playoffs. 
The format of the World Championship and preceding playoffs may change slightly every year, but in 2017, 24 teams across all regions made it to the League of Legends World Championship. They competed in a Round Robin series that eventually ended with the Main Event (Championship matches). The team that wins that final series of best of one matches is named the League of Legends World Champion.
League of Legends World Championship Prize Pool
The exact prize pool for the League of Legends 2018 World Championship has not yet been determined. However, the 2017 World Championship featured a prize pool of $4,946,969.00. It's believed that this year's Championship will feature a similarly high prize pool. 
League of Legends Permanent Spring Split 2018 Format 
The current Spring Split season will be contested under a best of one format. This is a change from recent years, which featured a best of three format. This year will also see the NA LCS abandon Friday games in favor of games that only take place on Saturday and Sunday. 
League of Legends Spring Split 2018 Schedule
Want to know the match schedule for a specific region of League of Legends eSports? You can find each schedule at the links below:
NA LCS Spring Split 2018 Schedule
League of Legends Spring Split Standings
NA LCS
Spring Split Winner: Team Liquid
*Final Regular Season Standings
1 100 Thieves 13W-6L2 Echo Fox 12W-7L3 TSM 13W-7L4 Team Liquid 12W-8L5 Cloud9 12W-8L6 Clutch Gaming 11W-9L7 Counter Logic Gaming 7W-11L8 FlyQuest 6W-12L9 OpTic Gaming 5W-13L10 Golden Guardians 4W-14L
EU LCS
Spring Split Winner: Fnatic
*Final Regular Season Standings
1 Fnatic 14W-4L2 G2 Esports 12W-7L3 Splyce 11W-8L4 Team Vitality 10W-8L5 H2K 8W-10L5 ROCCAT 8W-10L5 Misfits Gaming 8W-10L8 FC Schalke 04 7W-11L8 Giants 7W-11L10 Unicorns of Love 6W-12L
LCK
Spring Split Winner: Griffin
*Final Regular Season Standings
1 KING-ZONE DragonX 16W-2L2 Afreeca Freecs 13W-5L3 kt Rolster 13W-5L4 SK telecom T1 9W-9L5 KSV 9W-9L6 ROX Tigers 9W-9L7 Jin Air GreenWings 7W-11L8 bbq OLIVERS 6W-12L9 MVP 6W-12L10 KONGDOO MONSTER 2W-16L
LPL
Spring Split Winner: Royal Never Give Up
GROUP A
*Final Regular Season Standings
1 Edward Gaming 14W-5L2 Snake Esports 12W-7L3 Bilibili Gaming 11W-8L4 FunPlus Phoenix 9W-10L4 Team WE 9W-10L6 Oh My God 5W-14L7 Vici Gaming 2W-17L
GROUP B
*Final Regular Season Standings
1 Invictus Gaming 18W-1L2 Rogue Warriors 13W-6L3 Royal Never Give Up 12W-7L4 JD Gaming 10W-9L5 Suning Gaming 9W-10L6 LGD Gaming 6W-13L7 Topsports Gaming 3W-16L
LMS
Spring Split Winner: Afro Beast
*Final Regular Season Standings
1 Flash Wolves 13W-1L2 G-Rex 12W-2L3 Machi Esports 8W-6L4 MAD Team 6W-8L5 J Team 6W-8L6 ahq e-Sports Club 5W-9L7 Hong Kong Attitude 3W-11L8 Team Afro 3W-11L