News
Kingdom Come: Deliverance Mod Adds Lightsabers to the Game
This mod automatically makes Kingdom Come the best Star Wars game in years.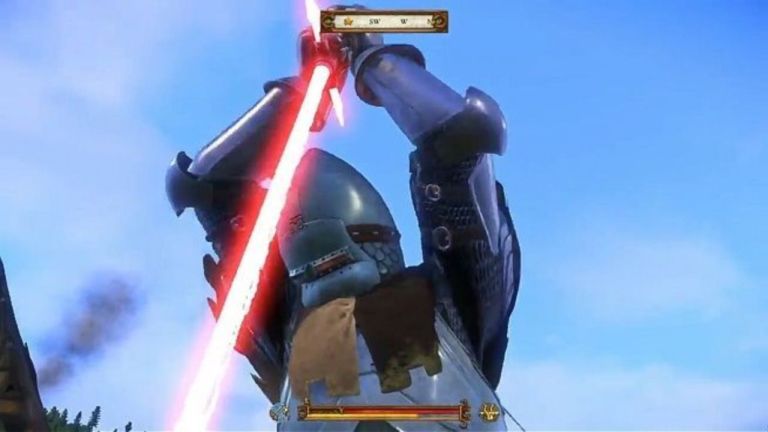 If you're ok with compromising the Kingdom Come: Deliverance's realistic aesthetics, then you should probably check out this new PC mod for the game that turns swords into lightsabers. 
Yes, this mod replaces some of the game's longswords, short swords, and sabres with various models of Star Wars lightsabers. A few appear to be taken directly from the films – most notably Kylo Ren's blazing hilt lightsaber – but others just employ slightly altered handle designs. Of course, the lightsabers are also available in a variety of colors. 
That's the good news. The bad news is that this mod doesn't try to fully-integrate lightsabers into the game. That means that there are minimal lightsaber sound effects, no proper lightsaber sheathing animations, and you still must sharpen your lightsaber at the grindstone. Needless to say, this isn't one of the most advanced mods out there. 
However, we highly recommend this mod simply because it's been too long since someone has taken a shot at implementing advanced lightsaber combat into a game. Kingdom Come's combat system isn't perfect, but it's great to wield a lightsaber in a game that actually requires you to consider sword-fighting techniques. Actually, this mod leaves us hoping that some ambitious user out there just goes ahead and totally converts Kingdom Come into a Star Wars game. 
Speaking of which, there are quite a few great Kingdom Come mods already floating around the internet. While many of the earliest mods focused on improving some of the game's issues – an unlimited saving mod was released pretty much right away – we're starting to see content mods that are much more significant in their scope. 
For instance, there's already a Game of Thrones conversion mod in the works as well as a very ambitious mod that makes Kingdom Come much more challenging. There are even mods that add some of the missing perks back into the game and mods that let you treat halberds like primary weapons. 
However, our favorite mod thus far may just be "Roads are Dangerous." This mod simply makes it more likely to encounter enemies while on the road or fast traveling and adds a few new random encounters into the game designed to spice things up a bit.