News
King of Fighters XIV: Team Mexico Trailer
Open the door and get on the floor because this wrestling-themed King of Fighters trio is rad as hell. Check the trailer.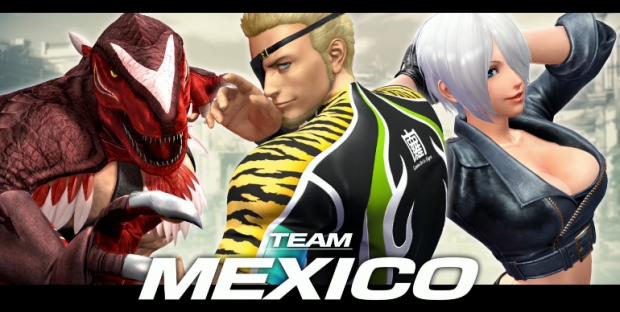 After a couple weeks of showing off new characters, SNK and Atlas are back to showing off some King of Fighters teams with a little more familiarity. Granted, these guys aren't the A-listers who show up year after year like Kyo, Iori, and Terry, but they're a group of King of Fighters entrants who have shown up from time to time.
Ladies and gentlemen, feast your eyes on Team Mexico, featuring Angel, King of Dinosaurs, and Ramon.
Let's start with Ramon, since despite being an eye-patch-wearing luchador, he's the least interesting of the three.
Ramon is a Mexican wrestler with moves and gestures based on Tiger Mask. He first showed up in King of Fighters 2000 on the Hero Team alongside K', Maxima, and Vanessa. He stepped down from importance afterwards, though usually stuck by Vanessa and remained her teammate.
Then there's Angel, who debuted in King of Fighters 2001 as part of the NESTS Team along with Kula, Foxy, and K9999. Basically, she was a seductive and enthusiastic assassin working for a group of super-terrorists. She hadn't been seen since NESTS was done away with. Despite being an assassin and stuff, she still strangely fits in with the whole wrestler theme of the team because – for some unknown reason – some of her moves are cribbed from the Rock.
It's crazy. You can even see her do a Rock Bottom/People's Elbow variation in the trailer, but in King of Fighters 2002, it was even more blatant. Like, she'd dash to each side of the screen before doing the elbow drop. Or she'd hit several haymakers, extend her punching arm back for a second with her hand open, and hit a final haymaker. Good thing the Rock's still relevant 14 years later.
Interesting thing about her is that she was created by Eolith, the company that picked up King of Fighters when SNK was temporarily kaput. She's the only character from that era to be brought back for a new game.
Lastly, there's King of Dinosaurs. SNK would have you believe that he's a newcomer, but that's not exactly the case. Considering his stature, moveset, and voice actor, he's obviously Tizoc. Tizoc, first introduced in the Fatal Fury sequel Garou: Mark of the Wolves, made his King of Fighters debut in King of Fighters 2003 as a member of Team Fatal Fury. He's a wrestler who fights for honor and children and what have you.
"King of Dinosaurs" is his heel persona. SNK does that a bunch and it's great. Fatal Fury villain Raiden unmasked and wrestled as the fan-favorite Big Bear. The wrestling game Three-Count Bout had several wrestlers who would put on masks to change alignment. Funny that Capcom hasn't played with the same concept.
Come by next week and we'll see the trailer for Team South Town, featuring my favorite martial arts kingpin, Geese Howard.
King of Fighters XIV will be available for PlayStation 4 on August 23.
Gavin Jasper notices that Terry Bogard's winquote against King of Dinosaurs directly calls him out as Tizoc. That man's exposing the business! No respect for kayfabe! Follow Gavin on Twitter.