News
King of Fighters XIV: Team Fatal Fury Trailer
Terry, Andy, and Joe return to the KOF tournament and we get to see their moves in this new trailer. Hey, c'mon, c'mon!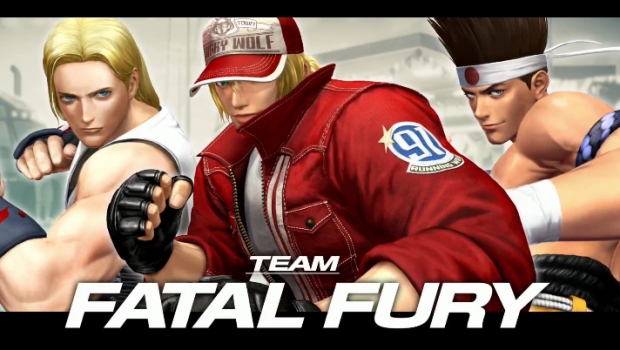 We're three months away from King of Fighters XIV, the three-on-three fighting game that may have last-gen CG graphics, but at least we'll be getting a complete game on day one…supposedly. Every week, they've been releasing trailers for each of the game's sixteen teams. First it was Team Japan, then it was Team Yagami.
Now we move to another staple trio, not only in terms of King of Fighters, but SNK in general. Here's a look at Team Fatal Fury, made up of Terry Bogard, Andy Bogard, and Joe Higashi.
OKAY!
Man, it's good to hear some Terry Bogard "English" voice acting quotes in 2016. I do miss him asking, "Are you okay?!" prior to the Buster Wolf, but I'll make do with, "Here comes the big one!"
The trio's first appearance came in Fatal Fury: The King of Fighters in 1991. Terry, Andy, and Joe were the only playable characters in the one-on-one fighter, which led to a handful of sequels and upgrades, as well as a few anime movies. Which reminds me, it's absolutely bullshit that Wolfgang Krauser was drawn without a mustache in the second movie.
The story behind the games was that as children, Terry and Andy got Bruce Wayne'd when their father Jeffry Bogard was killed by budding crime lord and martial arts badass Geese Howard. Terry grew up on the streets, letting the experience toughen him up while remaining a pretty upbeat dude. Andy went off to train with ninjas and spent years inexplicably refusing a relationship with the voluptuous and scantily-clad Mai Shiranui no matter how hard she threw herself at him. Years later, Terry and Andy met up, befriended loudmouth Muay Thai champion Joe Higashi and entered Geese's fighting tournament to get revenge.
Terry ended up winning and later went on to adopt Geese's estranged son Rock Howard, Andy started training the next generation of ninjas, and Joe…mooned people, I guess.
Since the King of Fighters series was first envisioned as a Fatal Fury vs. Art of Fighting game, Team Fatal Fury was there from the beginning. Originally they were called Team Italy even though none of them are Italian. Go figure.
While Terry/Andy/Joe has been the iconic version of Team Fatal Fury, they've changed it up a couple times. Over the years, characters like Mai, Blue Mary, Tizoc, Kim Kaphwan, and Duck King have joined Terry's side. Naturally, all of them have been in Fatal Fury games.
Despite being the stars of one of SNK's top franchises, the Fatal Fury guys have never had anything resembling importance in King of Fighters lore. If you don't make flames with your finger, you're strictly in the background.
I'm guessing we'll get a good look at Ryo Sakazaki's Art of Fighting team next week, so check back for that.
King of Fighters XIV will be hitting PlayStation 4 on August 23.
Gavin Jasper wouldn't have minded Blue Mary being in the game over Andy Bogard. Follow Gavin on Twitter!