News
Jumanji: The Video Game Coming in Late 2019
Jumanji: The Video Game lets you live the adventures of the Jumanji reboot universe.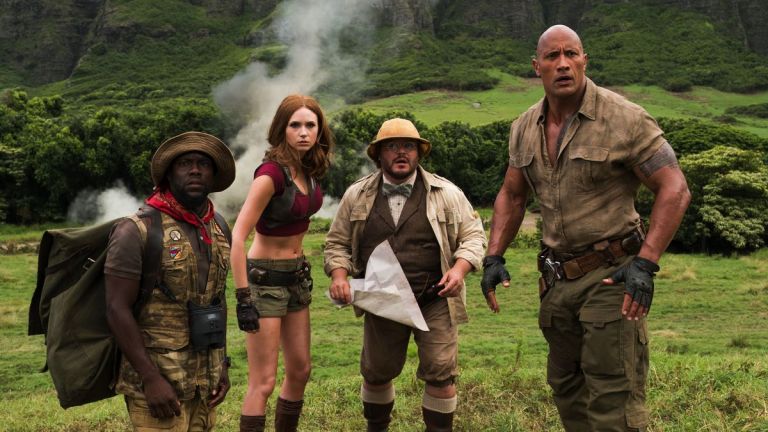 Bandai Namco and Sony Pictures are teaming up to produce a video game based on the rebooted Jumanji film universe. 
Simply titled Jumanji: The Video Game, this upcoming title is reportedly based on Epic's Unreal Engine 4, which seems to suggest that it will be a Triple-A experience. The game itself will seemingly allow players to assume the role of one of the film's four adventurers Dr. Smolder Bravestone, Ruby Roundhouse, Franklin "Mouse" Finbar, and Professor Shelly Oberon. It sounds like the goal will be to find the jewels of Jumanji. As you'd probably expect, this game will support cooperative multiplayer for up to four players. Thankfully, the game offers both split-screen and online multiplayer options. 
"This is a dream come true for our studio," said developer Funsolve founder and director Richard Tawn. "Adapting the exotic, dangerous and hilarious world of Jumanji into a video game has pushed us to create something truly special."
Unfortunately, we don't know much else about the game at this time. The game's press release hints that it will feature the film's humorous tones, but we don't really know much about it's gameplay or any of the finer plot points. As such, we'd advise fans to keep a close eye out for more details as Jumanji: The Video Game nears its November 15 release date for PS4, Xbox One, Nintendo Switch, and PC. 
Believe it or not, this isn't the first video game based on the Jumanji universe. There was the Jumanji Adventure Pack (a collection of minigames based on Jumanji that was released in the mid-90s for PC) and there was actually a PS2 game based on the original film that was released in 2007. The reason you probably don't remember the latter is because it was a PS2 game released in 2007. It was also a critically panned Mario Party clone. 
We'd hope that this new game will at least be better than what we've gotten so far and live up to the reboot's status as one of the better video game movies. 
Matthew Byrd is a staff writer for Den of Geek. He spends most of his days trying to pitch deep-dive analytical pieces about Killer Klowns From Outer Space to an increasingly perturbed series of editors. You can read more of his work here or find him on Twitter at @SilverTuna014.