News
James Bond: Bloodstone Announced
At a special 007 press day, Activision announces its new 007 game, James Bond: Bloodstone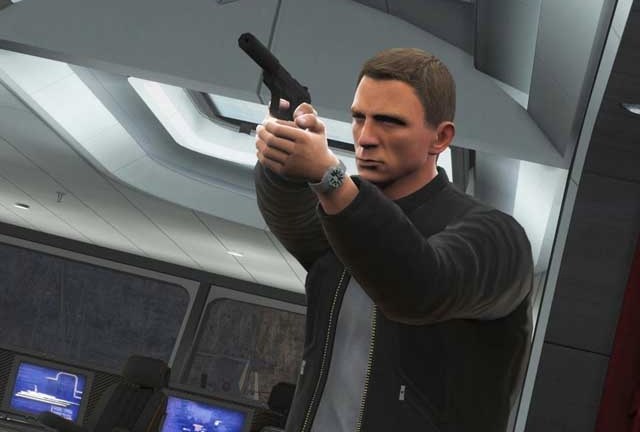 While Bond's future in cinema is still uncertain, the secret agent's career is still very much alive in the realm of video games, as Activision officially announces that 2010 will see the release of two 007 games.
The first we're already familiar with – announced at E3, the N64 FPS classic GoldenEye 007 is set to return to the Wii in a new, enhanced remake.
Far less was known about the second game, however – as we stood around waiting for Activision's presentation to start, Bizarre Creations' name was mentioned more than once, and rumours have been circulating for some time that we could be in for some sort of 007-themed arcade racer.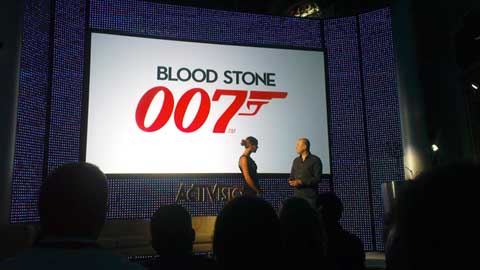 The reality turns out not to be too far from the speculation – David G Wilson (deep breath), Vice President of Global Business Strategy at Bond Marketing, took to the stage to reveal that Bizarre Creations is indeed the developer behind the new 007 game.
Called James Bond: Blood Stone, it's a mixture of third-person shooter and the kind of chaotic driving that Bizarre excel at – imagine Blur with Aston Martins and guns, and you're halfway there.
We were shown both the announcement trailer and ten minutes' footage from the first level, which has clearly been designed to showcase Blood Stone's multi-strand gameplay.
We see Bond – modelled, naturally enough, on Daniel Craig – parachute from a plane onto the bough of an expensive yacht moored in an Athens harbour, and immediately we're treated to multiple neck-snappings and other assorted take-downs.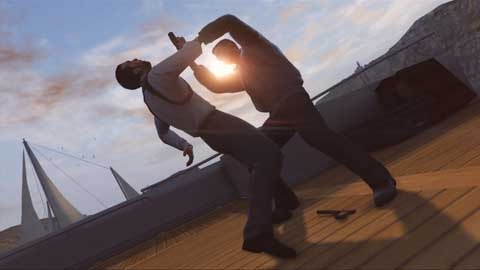 In a nod to Splinter Cell: Conviction, each stealthy kill provides Bond with a Focus Aim token – these slow the action down to allow time to take accurate shots at enemies.
After a brief shoot-out, we're introduced to Greco, one of the game's several villains, who proves handy with a rocket-propelled grenade launcher before making his escape. The action then shifts to a high-speed race around the harbour, as Bond pursues Greco in a speedboat. Bullets fly, things explode and, most memorably, a lighthouse collapses.
Back on foot, Bond blasts his way through an Athens mansion, using cover and taking down enemies with a machinegun before climbing back into an Aston DB-S for another high-speed chase.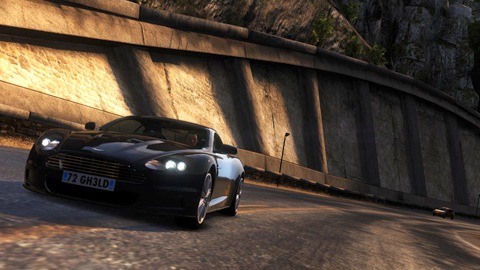 As a showcase for the game's varied and fast-moving action, it's an impressive demonstration – and while the driving sections look more convincing than the shooting elements, Blood Stone looks like a significant step forward from the so-so Quantum Of Solace tie-in from 2008.
An original story from Bond writer Bruce Feirstein (he was responsible for the Brosnan era stories GoldenEye, Tomorrow Never Dies and The World Is Not Enough), Blood Stone has an "original, topical storyline" according to David G Wilson, taking in locations such as Istanbul, Monaco and Bangkok.
As a final twist to the presentation, a "very special guest" was introduced to the stage – singer Joss Stone (and not Joss Ackland, as I initially misheard), who lends her likeness to the character of digital Bond girl Nicole Hunter, and also co-wrote and performed the Blood Stone theme song with Dave Stewart.
Called I'll Take It All, it's a better tune than you might expect, and arguably better than the dismal themes for the Casino Royale and Quantum Of Solace films. In fact, the entire opening sequence is impressively realised, with fighting and posing silhouettes superimposed over DNA strands composed of diamonds.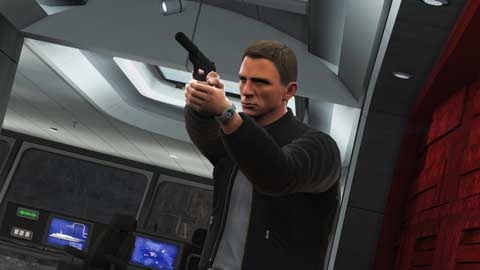 But then, it's clear that a considerable amount of money and effort has been thrown at Blood Stone's production, and it could be the game 007 fans have been waiting for since 1997's classic GoldenEye. Freed from the shackles of movie tie-in ignominy, it's just possible that this latest 007 could do for Bond what Arkham Asylum did for Batman.
We'll be bringing you more coverage of both Blood Stone and the GoldenEye 007 Wiimake next week. James Bond: Blood Stone will be available for Xbox 360, PlayStation 3 and PC, and is due for release in November.