News
Jak and Daxter Franchise to Receive HD Re-Releases
Naughty Dog's incredible franchise will receive the full PS4 upgrade treatment.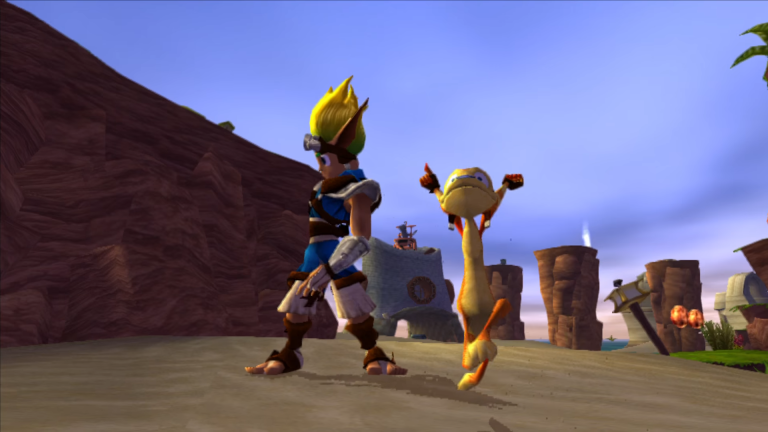 Sony made a lot of gamers happy when they confirmed that Naughty Dog's Crash Bandicoot trilogy is getting an HD upgrade. However, an even better piece of Naughty Dog related news came down the pipeline today when Sony announced that the Jak and Daxter series will also be re-released in the form of updated PS4 digital downloads.  
"We are delighted to announce that Jak and Daxter: The Precursor Legacy, Jak II, and Jak 3 will be available on PS4 via download at PS Store later this year!" reads the announcement on the PlayStation US blog. "Longtime fans and new players alike can experience the incredible exploits of Jak and Daxter as the duo sets out to explore ancient lands and unravel the mysteries of the Precursors."
Joining these titles will be a re-released of the racing game Jak X: Combat Racing. While Combat Racing isn't held in the same high regard that titles like Mario Kart and Crash Team Racing are, it's still an enjoyable combat racer that entertained many franchise fans when the game was released back in 2005. Actually, its upcoming HD upgrade represents the first time that the racer has been made available since it was first released. 
There's no release date available for these titles, but it does currently sound like the games will be re-released individually rather than as part of a collection. Sony says that they will have more information available regarding the specifics of these upgraded titles, including their release date, sometime soon.
Crash Bandicoot may have more name value in the eyes of some old-school gamers, but in terms of overall quality, it's hard to not be just a little more excited for these titles. The original Jak and Daxter remains something of an odd duck due to its traditional 3D platformer roots, but Jak II and Jak 3 converted the series into a cinematic open-world experience that helped establish Naughty Dog as one of the greatest developers in the world. 
If you've never had the chance to experience the trilogy, you may want to jump at the chance to do so when these games are released later this year.