News
Iron Maiden Sues Ion Maiden Developers Over Fan Confusion
3D Realms is being sued over Ion Maiden due to apparent confusion among Iron Maiden fans.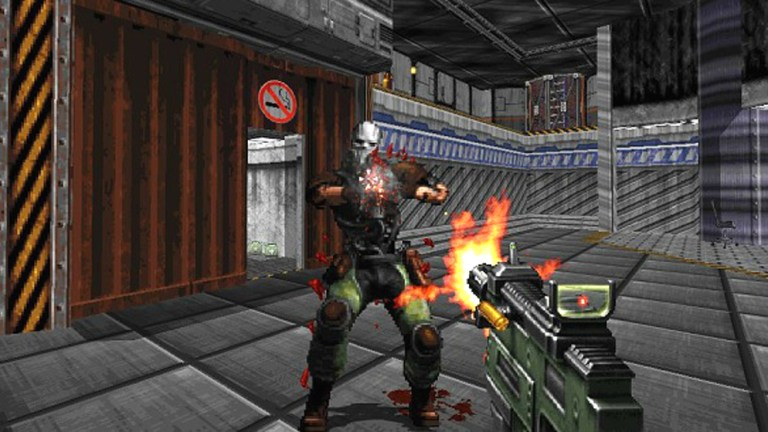 Heavy metal band Iron Maiden is suing video game publisher 3D Realms over the throwback shooter game Ion Maiden which the band's representatives claim is creating confusion which leads Iron Maiden fans to believe the game is officially associated with the band. 
Yes, we're serious. It doesn't sound like this is a case of direct copyright infringement, but rather a lawsuit based on the general stupidity of the some of the band's fans. According to the lawsuit, the use of the name Ion Maiden constitutes a "misappropriation and use of a virtually identical imitation of the Iron Maiden trademark creates a likelihood of confusion among consumers. Customers who view Defendant's video game and merchandise are likely to believe that Iron Maiden is somehow affiliated with Defendant."
Where things get really funny is when the lawsuit begins to detail the ways in which fans have been confused by Ion Maiden's name. These include using actual online comments to cite times when fans expressed their belief that they thought this was an Iron Maiden game, "reading an article about the Ion Maiden video game waiting for an explained connection to Iron Maiden," and (my favorite) "commenting that 'all that's missing is an … Iron Maiden soundtrack' and that the Iron Maiden song 'Can I Play with Madness' would fit right in."
While we don't claim to be lawyers, but we've really got to wonder whether or not internet comments should be used as the basis for a lawsuit. That feels like a dangerous precedent in an age of meme online petitions and rampant general stupidity. 
It's worth noting, though, that the lawsuit claims Ion Maiden's logo utilizes font associated with Iron Maiden, which is at least a little closer to a legitimate legal claim. In any case, the band's holding company is seeking $2 million in damages and wants Ion Maiden's website taken down or given to them. 
This is hardly the first time that we've seen an outside source sue a video game publisher/developer over similarities and usage rights. Just recently, the Pinkerton Agency tried to sue Rockstar over Red Dead Redemption 2, and Lindsay Lohan previously sued Rockstar over claims they used her likeness in Grand Theft Auto V. 
Matthew Byrd is a staff writer for Den of Geek. He spends most of his days trying to pitch deep-dive analytical pieces about Killer Klowns From Outer Space to an increasingly perturbed series of editors. You can read more of his work here or find him on Twitter at @SilverTuna014.