News
Introducing Wipeout-style racer, Formula Fusion
Pining for a current-gen racer in the mould of the classic Wipeout? Then Formula Fusion could be the game for you...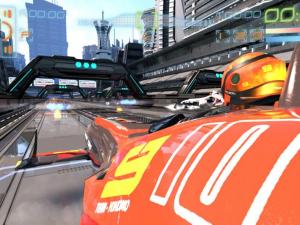 One of the early hits that established the PlayStation as a must-have console, Wipeout was the epitome of 90s cool. With its pounding music, sleek design, and breathtakingly fast action, Psygnosis' futuristic racer briefly seemed like something from another planet.
Created by developer R8 Games, Formula Fusion has the same adrenaline buzzing through it, with its anti-gravity racers hurtling along twisty, trendy-looking tracks. While this is an entirely separate game from the Wipeout series, it does have certain elements in common: Cold Storage, who provided music for almost every Wipeout entry, will provide a new soundtrack. The Designers Republic, who were responsible for the Psygnosis games' trendy look, will offer similar duties on Formula Fusion.
The studio itself comprises some industry veterans who've worked on the likes of Grand Theft Auto, Midnight Club, Colin McRae as well as Wipeout. With experience like that behind it, Formula Fusion could be as exciting to play as it looks. You can check out some early footage from the game in the video below.
Formula Fusion's already crossed its humble Kickstarter goal of £35,000, so it's definitely being made. But it's a little puzzling that the racer hasn't had more fuss made over it, particularly given just how much support the revivals of such game formats as Mega Man (with Mighty No. 9), Castlevania (with Bloodstained) and Banjo Kazooie (with Yooka-Laylee) have received.
Formula Fusion is being developed for PC, but R8 Games is looking for a stretch goal of £100,000 to fund its port to consoles like the Xbox One and PlayStation 4. If you're interested in seeing a Wipeout-style racer on a console near you, it could well be worthy of your consideration.