News
How Pro Evolution Soccer lost its way
Death, taxes, and Pro Evolution Soccer being better than FIFA. With PES 2009, here's how one of life's certainties got crossed off the list...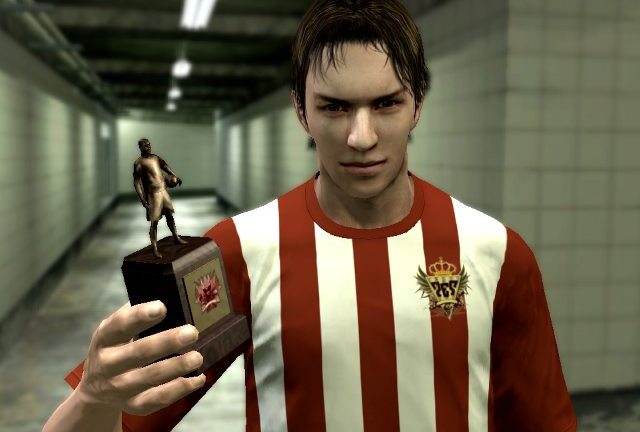 Over the past few years, I've had a lot of sympathy for the games reviewer, whose job at this time of year has traditionally been to repeat that Konami's Pro Evolution Soccer was the connoisseurs' football game of choice, while EA Sports' FIFA series was the glossier kickabout. Forget the official licences, and the realistic tournaments: when it came to what mattered, on the pitch, it was always Pro Evolution Soccer – and, earlier than that, International Superstar Soccer – that managed to deliver the goods.
However, if you read back some of those reviews over the past few years, there's been an ongoing theme, namely that EA has been managing to close the gap, and that Konami has been struggling a little. And this year, for the first time since this battle became an annual one, I and many others are recommending FIFA over Pro Evo for the first time.
How did we get to this point? Well, it's a story of two games. Let's deal with Konami first. There's a decent groundswell of thought that argues FIFA actually overtook Pro Evo for the first time last year, as Konami's Pro Evolution Soccer 2008 – the first to adopt a year name in the title – was a game with all sorts of problems. So much so that developer Seabass came out and admitted it wasn't set up for multi-format publishing, and that it had struggled with PES 2008. The problem, though, is that once you've on the annual treadmill, that's one bit of ink on the spreadsheet that your publisher will never be willing to risk slipping. In short, you've got your deadline every year, and you've no choice but to hit it.
Pro Evo 2008 had an abundance of problems. Firstly, it zipped around in the style of a Kick Off game from the early 90s, with the measured played the franchise had been famed for eroded quite a lot. Also, individual skills were just too powerful. Dribbling was a ridiculously successful tactic, while if you had a striker of any note, a shot from pretty much anywhere would head towards the target with consummate ease. Even the little details were off: the penalty-taking angle was changed (and has since been changed back, thank goodness) to something that was less natural and more showy.
But the fundamental problem was that it was a goalfest. Pro Evo was, in the past, famed for its blinding, intense 0-0 draws as much as the high scoring games, but after two or three months playing PES 2008, I'd never seen one. Instead, come the Master League title decider, I found myself 4-0 inside half an hour, and won a match 6-4. That's absolutely not what Pro Evo was all about. Let's not forget too that the online side of the game was a disaster, that I and many others gave up on, wondering how Konami had fundamentally managed to go backwards on a feature that was never up to EA's standards, but always managed to give you a good game.
The roots to the problems can be traced back a little earlier, though. Pro Evolution Soccer 6 was the first time that dribbling and powerful strikers became more prevalent, and the game suffered a little for it. PES 5? I liked that one a lot, but many grew frustrated at just how bogged down it was in midfield battles. Pro Evo 4 was arguably the last version of the game to properly gel, but some would have you go back a few generations before that to find the real gold in the franchise.
Over in FIFA-land, meanwhile, things have been steadily improving. There's been nothing dramatic, and there rarely is any more with any sports game, let along an EA one. But instead, EA Canada has slowly fine-tuned its game engine. As recently as FIFA 08, I put a number of weeks into the game, but still found it lacked the fluidity of a PES session, and ultimately found little compelling reason – outside of the wealth of tournament options – to carry on. That said, the option to play as a single player on the park was inspired, even if you felt it was the acorn of something we wouldn't see properly realised for another couple of years.
FIFA 09, however, is arguably the biggest jump forward the franchise has enjoyed since FIFA 98: Road To The World Cup, the version of FIFA that really put the series on the map. The game is far more tactical than it once was, but if you work really hard at it, it's possible to put some terrific moves together. It's harder to score goals – although there's still a sweet spot or two – and it feels far more of a slower, measured team game, rather than about getting one or two good players in the right positions.
Pro Evolution Soccer 2009? It's main improvements, and there are a few, are generally about undoing damage, rather than adding much new. Sure, it too now has an option to play as a single player, but bizarrely, it's now become far more of the arcade-feel game than FIFA. It's as if the two franchises have changed places. If you want the most enjoyable, but least realistic, then pick Pro Evo. And if you want the true football game, then this year, it's got to be FIFA.
Konami has quite a job on its hands here. Pro Evo 2009 is a better game than 2008, but now it's not just competing against its own internal problems, but also a revived rival that, bluntly, shows every sign that it's not just seized back the initiative, but that it's got more to build on in the years ahead. Both franchises are, after all, juggernauts of different sorts. And the problem with juggernauts is that it takes some time to turn them. Thus, FIFA 09 could well, and indeed is quite likely to, mark the start of the crowning of the new champion for the next few seasons as well.