News
Horizon Zero Dawn: The Frozen Wilds Trailer
Horizon's first and only piece of DLC looks to expand upon one of the year's best games.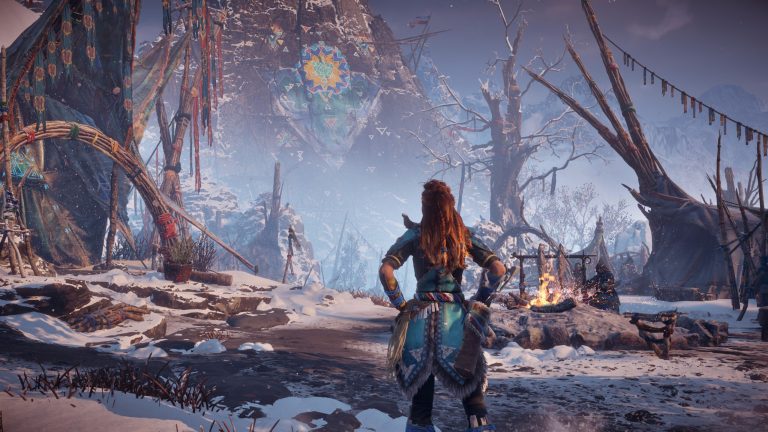 The already intimidatingly large world of Horizon Zero Dawn is about to get a little bit bigger with the release of the games next DLC, The Frozen Wilds. 
This DLC promises to take players "beyond the northern mountains" as the Banuk tribe that rules over the area take on anyone who has the guts to invade this frozen wilderness. Unfortunately for Aloy, that land so happens to contain valuable information regarding a new mystery that has entered her life. 
The Frozen Wilds figures to be a significant story DLC release that should expand the content of the original game considerably. Developer Guerrilla Games claims that this will be the only piece of DLC they release for Horizon Zero Dawn, so it will be quite interesting to see if this release leaves any more room open for a sequel. 
What we do know is that The Frozen Wilds is a gorgeous looking add-on that features some fantastic snow effects. Guerrilla Games has also stated that this DLC will add new skills, new combat mechanics, and new ways to interact with the game's roaming machines. Furthermore, those who beat the original narrative can expect to see both upgraded original weapons and entirely new weapons. You're probably going to need all the help you can get when it comes time to face the DLC's new robotoic creations which look to be fiercer and larger than any of the foes we saw in the base game. 
Frozen Wilds will also raise the current in-game level cap from 50 to 60 and promises to provide a "mid-to-end game" level of difficulty according to the developers. 
Horizon Zero Dawn: The Frozen Wilds is set to release on November 7th. It will retail for $19.99, but PlayStation Plus members will be able to grab it for $14.99. 
While we always recommend playing the base game before a DLC add-on, that recommendation is doubled in the case of what figures to be one of 2017's best overall titles. If you haven't played Horizon Zero Dawn, take this announcement as a sign that it is time to do so. 

Read the latest Den of Geek Special Edition Magazine right here!