News
Horizon Zero Dawn 2 Leaked by Voice Actress
It appears that Horizon Zero Dawn 2 is in development according to one of the game's performers.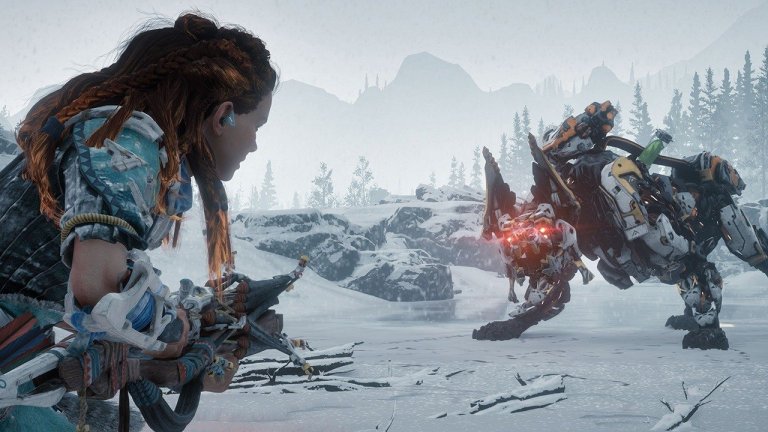 Well, this is awkward. It seems that a voice actress may have accidentally confirmed that Horizon Zero Dawn 2 is in development and seemingly well underway. 
In a Twitch clip that has since been removed (but preserved elsewhere), voice actress Janina Gavankar (who played Tatai in Horizon Zero Dawn: The Frozen Wilds DLC) was speaking to a fan at Star Wars Celebration when the two were talking about playing Horizon Zero Dawn. At one point, Gavnaker states that "It's incredible, wait 'til you see the sequel. You're gonna die – I know some secrets! – you're gonna die."
First off, it is possible that there was some kind of miscommunication here that led Gavankar to say sequel when she didn't mean to. However, that feels pretty unlikely. It would honestly be a little more surprising to learn that a sequel to Horizon Zero Dawn wasn't in development given how successful and critically acclaimed the first game was.
However, there are a couple of things this statement hints at which are a little more interesting. First off, the fact that Gavankar is in the sequel and seems to know quite a bit about it would also suggest that her character has a much greater role to play in the upcoming game. Given that Tatai was introduced in the Frozen Wilds DLC, it's entirely possible that Horizon's sequel will utilize that setting (or at least some of the DLC's characters and stories) again. 
The other, arguably more interesting, note about this leak is the timing of the game's development. If you subscribe to the idea that the PlayStation 5 will be released in 2020 (we certainly believe that to be the case), then you've got to wonder where Horizon Zero Dawn 2 fits on Sony's timeline. It's entirely possible that this sequel will serve as the PlayStation 4's swan song (that would be our bet), but we wouldn't be too shocked to learn that it will be a next-gen title. 
In any case, we'll be sure to bring you more about Horizon Zero Dawn 2 as additional information becomes available. 
Matthew Byrd is a staff writer for Den of Geek. He spends most of his days trying to pitch deep-dive analytical pieces about Killer Klowns From Outer Space to an increasingly perturbed series of editors. You can read more of his work here or find him on Twitter at @SilverTuna014.