News
Homeworld 3 Already in Production
Homeworld 3 is the surprise sequel to the cult classic strategy franchise.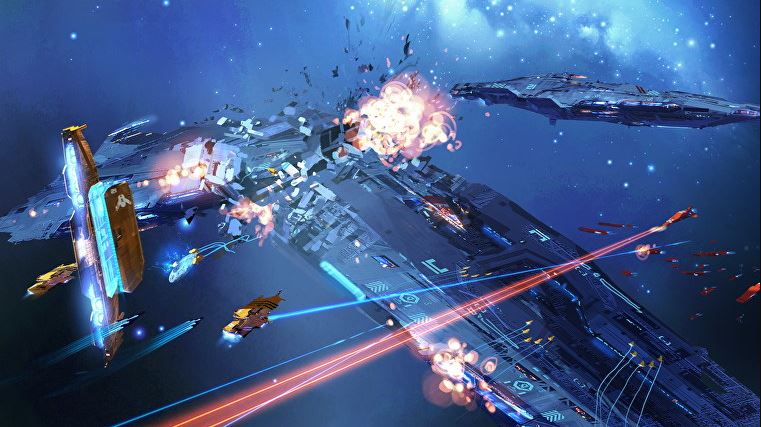 Homeworld, one of the greatest strategy series in PC gaming history, is finally getting a proper modern-day installment in the form of the long-awaited Homeworld 3. 
Gearbox Publishing and Blackbird Interactive surprised just about everyone recently by launching a campaign on Fig in order to crowdfund the long-awaited sequel. The game has raised over $500,000 so far. The goal was set at just $1, which we imagine was done due to the fact that the campaign leaders knew it was going to hit their ideal funding range and perhaps didn't want to set some kind of expectation of what is required in order to "finish" the game. 
Actually, the phrasing on the game's Fig page suggests that Homeworld 3 is already in pre-production. The parties involved with the development of the game noted that the purpose of this Fig campaign is to "give fans both new and grizzled a chance to fuel and profit from Homeworld 3's success." Yes, it's actually possible to invest in Homeworld 3 at $500 a share and score a copy of the game to boot. Interestingly, though, the studio notes that any possible revenue returns will only be received "if and when the game is developed and commercially released." They currently anticipate a Q4 2022 release date. 
It should also be noted at that time that actual details of what to expect from the game are few and far between. The campaign alludes to the idea that Homeworld 3 is going to be a "classic" Homeworld game, which should mean that players can expect large-scale sci-fi space battles that take place in true 3D. 
The promise of classic Homeworld gameplay will be welcome news to anyone who was disappointed with (or at least slightly put off by) 2016's Homeworld: Deserts of Kharak. That prequel, which played like a slightly more traditional RTS, was certainly good in its own right, but it wasn't quite what Homeworld fans were necessarily looking for.
Homeworld was a breath of fresh air in 1999, and we honestly imagine that the franchise's innovative concepts will fit in well with this new era of strategy games (that includes titles like Frostpunk and They Are Billions) which are re-imagining what the strategy genre is capable of. 
Matthew Byrd is a staff writer for Den of Geek. He spends most of his days trying to pitch deep-dive analytical pieces about Killer Klowns From Outer Space to an increasingly perturbed series of editors. You can read more of his work here or find him on Twitter at @SilverTuna014.