News
Hitman: Agent 47 Cast Talks Challenges of a Video Game Adaptation
The director of Hitman: Agent 47, and stars Rupert Friend, Zachary Quinto, and Hannah Ware, discuss the video game adaptation.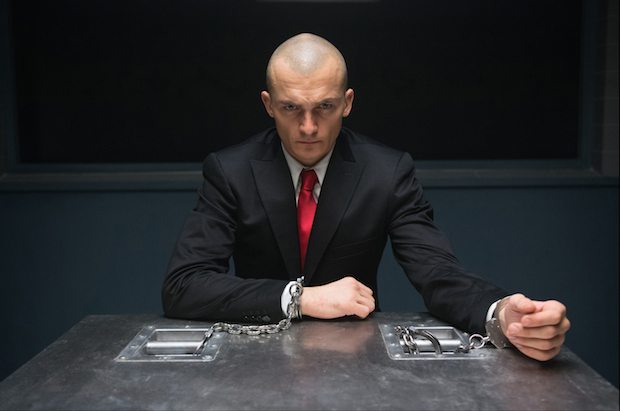 Hitman: Agent 47 is a movie reboot for gamers' favorite facilitator of fatalities. Putting the name of both its protagonist, and seeming antagonist (depending on the scene), right in the title, Hitman: Agent 47 tackles the genesis of 47 and expands his background for a non-gaming audience, showing how a biologically engineered clone became the perfect killing machine.
It's a terrific idea for a game, but for director Aleksander Bach, who worked from a screenplay by Skip Woods and Michael Finch, it also marked a curious balancing act: keep the remorseless, hair-trigger violence of a barcode-stamped killer and also create a humane introduction of his audience to the broader audience. Indeed, when we were able to sit down with Bach and Hitman: Agent 47's lead actors of Rupert Friend, Zachary Quitno, and Hannah Ware at a small press conference interview earlier this month in Soho, that thin line between video adaptation and pure filmmaking was always a conscious element of their thoughts.
"When it's based on this game Hitman, and you have this stone cold assassin Agent 47, you somehow need to care for this guy. When he's too cold, it just doesn't work," Bach explained upon being asked about the possible learning curve of adapting a video game. "First of all, what you need, and it doesn't matter if it's a video game or not, you need a great story and you great characters, and you need great actors to bring it to life."
Still the game was certainly a starting off point for several of the actors. Indeed, Friend is making his action hero debut for the big screen with this film by playing the titular agent. And while he has also played a spook with a sniper rifle before plenty of times on Homeland, a show where his Peter Quill's conflict of being a killer of innocents has become a series highlight, Agent 47 obviously required a different kind of research.
"I found the games very useful, particularly the later Absolution game," Friend said, recalling the 2012 Hitman console installment. "The way the character moved is very interesting to me. There was something very graceful about it. This was a guy who took such pride in his coat, you know the iconic suit and tie. And yet, [he's] able to fight very efficiently in a very inefficient uniform. So that kind of deadly grace, if you like, was at the center of something very physical for me."
Indeed, Friend spent much of his time on the film's set in Berlin training with Quinto and their stunt team for their characters' many fights.
"I was kind of doing this very brutal, very efficient, Israeli self-defense technique, and trying to marry that with something a lot more balletic," Friend said.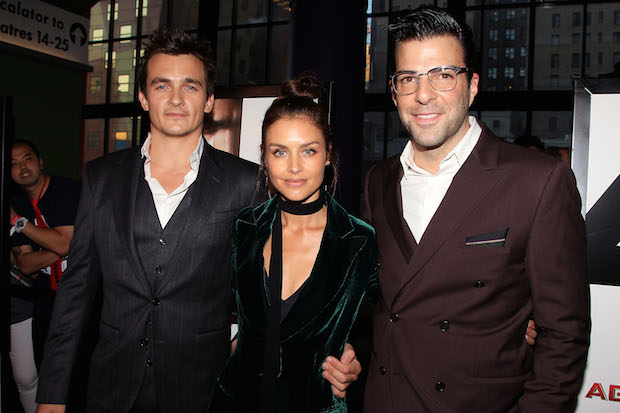 For his part, Quinto viewed the film as the opportunity to open the world of the game to a more emotional and human vulnerability core.
"I never played the game, so for me it was more about a point of entry from a creative standpoint and engaging my imagination to inhabit my character in this world," Quinto explained. "I know it's derived from the history of the games, but that to me wasn't the most efficient way in." Instead, Quinto appreciated adding new layers to the stealth and action of a video game movie like Hitman.
In fact, one of the best additions is easily Hannah Ware's character, who does not appear in the video game series. As a young woman with a mysterious past, Ware's Katia is an inversion of the merciless Agent 47. It is heavily implied she has the same martial arts and murderous skills as Agent 47 implanted into her DNA, but since she was not raised an assassin, she offers a strangely human reaction to all the digital violence—she also does so while eschewing traditional romantic subplot tropes.
Explained Bach, "I was thinking a lot about Agent 47, and there's no romance for me in this character. The question is more to answer how much humanity is there left…I knew when it was too much, [audiences] don't buy it, because he's a killer, he's a clone, he's stone cold." For Bach, this equated to Katia instead challenging Agent 47 intellectually about his lack of fear or emotional connections, including love.
Instead of playing more traditional clichés, Ware created a character who could take care of herself, checking off the "strong female box" role that is so rare in a movie like this, a fact that everyone on the stage appeared exceedingly aware of.
"What drew me to it was that it was a strong female character—I hate using that term; I think it's so annoying, because it just shouldn't [need] to exist," Ware reflected. "But I think when you're really immersed in making a movie, you're not thinking, 'Are we doing anything different?' In terms of what's going on in the kind of current mode of moviemaking. But that's why I did it, and I'm pleased that that stands out."
Hitman: Agent 47 also marks Ware's first big budget studio movie, which is a bold new world that co-star Quinto was all too happy to welcome her to.
"Hannah and I already knew each other before we started the movie," Quinto said. "So that was a great extension of an already budding friendship to be able to bring into work. And that's always a cool thing when you know and enjoy somebody, and you find occasions to be able to work with them."
Ultimately, they all seemed pleasantly aware that adapting a video game to the big screen is a narrow tightrope to walk, but bringing the unique qualities of that game could offer audiences a twist on the action genre.
As Bach reflected about the his most pertinent point of adaptation, "I was studying the games from scratch, because I knew it was my job to bring this character to life in a great way, especially when there's such a big fanbase.
"We definitely needed to find the right DNA of Agent 47, and I learned from the game that the DNA was his intelligence, and how he viewed things. It wasn't about random killing. It was never about random killing—he's always killing because he needs to make the next step. I think we tried to catch this and bring this to life—that 47 is smarter than all of us. Otherwise, when it's about random killings, it's just boring."
Audiences will be able to try to keep up with 47 themselves when Hitman: Agent 47 opens on Friday, Aug. 21.