News
Hitman 2 Release Date, Trailer, and News
Everything you need to know about Hitman 2, including latest news, release date, trailers, and much more!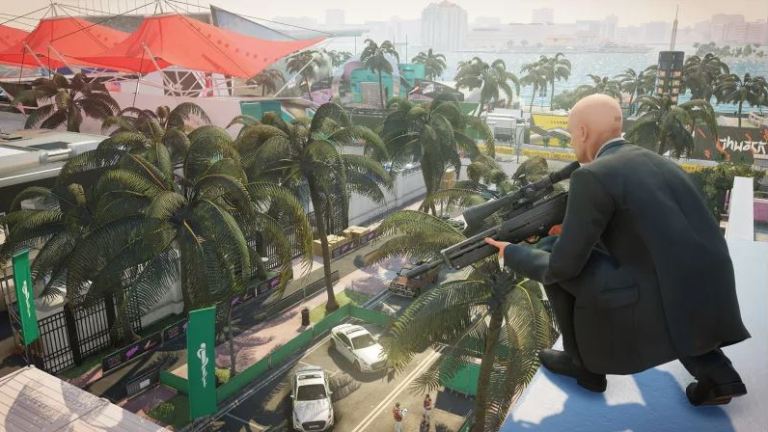 Warner Bros and IO Interactive have officially revealed Hitman 2. As suspected, Hitman 2 is essentially a follow-up to the previous season of Hitman. However, IO Interactive indicated during the game's live stream reveal that the next Hitman will not follow the episodic format of the previous Hitman game. 
The game itself continues roughly where the last Hitman left off, as Agent 47 continues his pursuit of the mysterious Shadow Client. However, it seems that 47's mission will force him to confront some potentially unwelcome details about his own mysterious past. 
Mission-wise, the reveal and trailer teased a Miami mission that sees Agent 47 eliminate a race car driver by potentially manipulating his vehicle before the big race. Elsewhere, Warner Bros. and IO referenced "sun-drenched streets to dark and dangerous rainforests" as possible locations. As always, each of these missions will afford Agent 47 – and players – the chance to utilize multiple paths to victory and the opportunity to complete multiple objectives. 
Both Warner Bros. and IO Interactive expressed how excited they are to revive the Hitman series after it faced an uncertain future following Square Enix's decision to drop developer IO Interactive.
Here's everything else we know:
Hitman 2 News
Sean Bean stars as Hitman 2's first Elusive Target in this new trailer featuring an exploding rubber ducky:
Hitman 2 Release Date
Hitman 2 arrives on Nov. 13, 2018. The game is coming to Xbox One, PlayStation 4, and PC. If you're interested in pre-ordering the game, you can find out more about Hitman 2's various editions by visiting this website. 
Hitman 2 Trailer
Hitman 2 takes the action to the jungles of Colombia in a new trailer:
And here's a new gameplay trailer, too:
Hitman 2 will feature upgraded versions of the Hitman missions:
As explained in the trailer above, developer IO Interactive will essentially be remaking Hitman within Hitman 2. All of the game's levels will be available in Hitman 2 and will benefit from the new features and technology included in the sequel. Through this, IO hopes to create a World of Assassination that binds the revived Hitman games. 
Best of all, anyone who owns the first season of Hitman will be able to access the remade original levels for free. Everyone else will need to download them as part of a DLC pack. 
The PC Gaming show at E3 2018 included a surprising look at Hitman 2's gameplay. While not a long preview, this trailer does confirm that Hitman 2 will continue the good work that the last game started. 
Check out the announcement trailer below:
Further Reading: Hitman 2's Sniper Assassin Hands-on Preview
New to the series is a co-op option called Sniper Assassin. This two-player mode sees players compete to take down a series of targets via the use of sniper rifles. It's not entirely clear what the extent of the competitive/cooperative nature of this game mode is, but we do know that players will also have the option of completing these sniper missions by themselves if they choose to do so. 
Here's the Sniper Assassin mode trailer:
Matthew Byrd is a staff writer for Den of Geek. He spends most of his days trying to pitch deep-dive analytical pieces about Killer Klowns From Outer Space to an increasingly perturbed series of editors. You can read more of his work here or find him on Twitter at @SilverTuna014.