News
Hearthstone's Next Event Is All About Wild Mode
Get your Doctor Booms ready to go...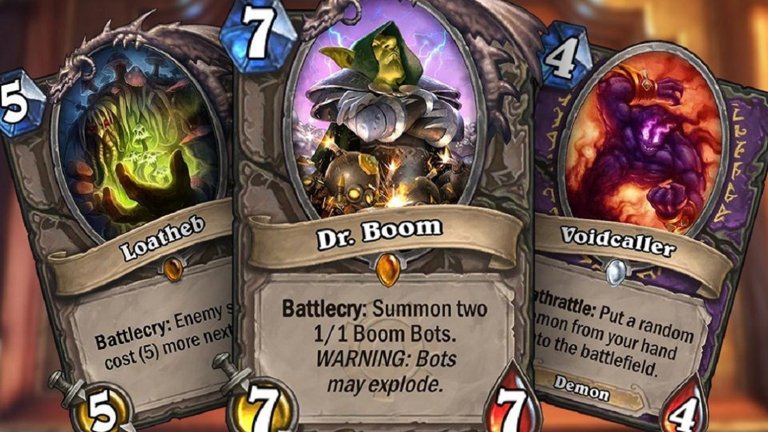 The next Hearthstone event will heavily emphasize the game's sometimes overlooked Wild mode. 
From February 19th to March 11th, Hearthstone Arena players will find that Wild cards have been added back into popular mode. Wild cards are any cards that are currently not playable in the game's main competitive mode. That rotation is determined by a yearly update which sends cards from previously released expansions into the game's Wild mode in order to freshen up the game's competitive meta. Wild cards are kept out of Arena mode – an in-game mode in which players compete with custom drafted decks – for a similar reason. 
Sometime before April – the likely release window for the next Hearthstone expansion and yearly rotation – there will be two special Tavern Brawl events designed around Wild cards. The first will simply allow players to play custom-made Wild decks and compete against each other. That Brawl is expected to debut first at an unspecified date. 
The second Brawl, though, is much more interesting. Called "The Wild Brawliseum," this new event will allow players to construct custom decks using Wild and standard cards and compete in an Arena-like setting. That means that you'll try to achieve 12 wins before losing three games. The more wins you earn in this mode, the better rewards you receive at the end of it. The set-up is similar to the previously utilized "Heroic Brawl," but this mode will allow you to use cards from Wild. The prizes this Brawl offers are not known at this time, but it has been revealed that your first run through this Brawl will be free. After that, you'll have to pay an entry fee with cash or in-game gold. 
It's certainly nice to see Blizzard give Wild mode a little love. While the studio stated early on that Wild mode is supposed to live up to its namesake, some of those who prefer playing in the mode have stated that it's become a bit too untamed. Because the mode allows you to use any Hearthstone card that has ever been released, it's possible to build some truly outlandish decks that can absolutely overwhelm most opponents. 
Still, it's nice to revisit Hearthstone's past and play with some of the great cards gone by.