News
Hearthstone: Rise of Shadows Trailer and Release Date
Hearthstone's Rise of Shadows expansion features some exciting new cards and mechanics.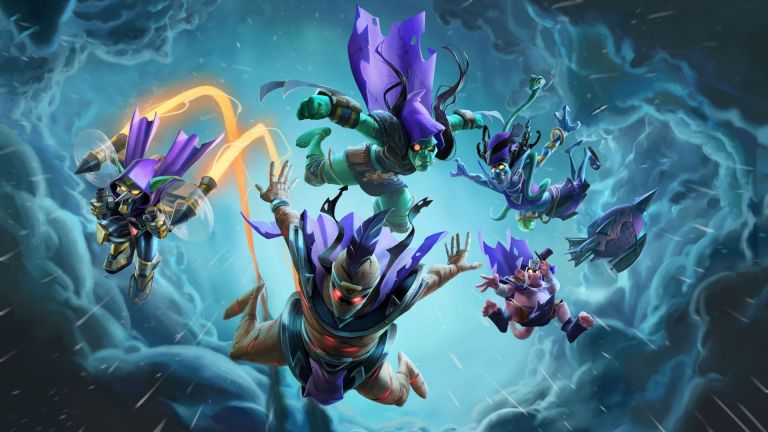 We can now confirm that Hearthstone's next expansion will be the villain-themed Rise of Shadows.
As previously reported, this expansion will begin Hearthstone's first year-long storyline. In other words, all three expansions released this year will further a story involving some of Hearthstone's greatest villains uniting to get revenge on those who wronged them. While that story will most likely be directly continued via the recently revealed solo adventures (which weren't elaborated on during this latest info dump beyond a vague May release date), we're already seeing elements of the game's story manifest themselves via the new cards and mechanics this expansion introduces. 
For instance, players will now have access to cards that summon "Lackeys." These lackeys are all one-cost minions that grant you a relatively powerful effect. Furthermore, they're all thematically bound to one of the expansion's League of E.V.I.L. villains. That theme continues with the new "Schemes" cards which grow in power each turn they are in your hand. The first of these cards, Hagatha's Scheme, is a five mana spell that deals one damage to all enemies, but will deal one more damage for each turn you hold it. There's also a new Twinspell mechanic which grants you a copy of any spell bearing that keyword once you have cast it. 
Continuing this expansion's theme are the new Callback Cards which all pay tribute to a card from Hearthstone's past. For instance, the first Warlock legendary will be Arch-Villain Rafaam; a taunt minion that replaces your hand and deck with legendary minions. This is a callback to the Golden Monkey card from League of Explorers. Not all legendary minions will be Callback Cards (and not all Callback Cards will be legendary), but it's not clear how many of these cards will comprise the 135 new cards introduced via this upcoming expansion.
What is clear is that this is going to be one of Hearthstone's most important expansions yet. Thematically, it's certainly the game's most ambitious expansion, but the fact that Hearthstone's standard mode is about to enjoy a massive rotation that will see some of the game's most powerful cards get rotated out means that Rise of Shadows is going to have to do some heavy lifting in order to make up for what's being lost.
We'll know if this expansion is up to the task when Rise of Shadows releases on April 9. Before then, you can pre-order the $49.99 50-pack bundle (which includes the Jewel of Lazul card back and a Legendary card) and the $79.99 80-pack bundle (which includes the Madame Lazul Priest Hero, the Jewel of Lazul card back, and a Golden Legendary card). There will also be a $9.99 nine-pack Shadow Bundle available during launch and players will gain access to a free legendary card starting on April 5.
Matthew Byrd is a staff writer for Den of Geek. He spends most of his days trying to pitch deep-dive analytical pieces about Killer Klowns From Outer Space to an increasingly perturbed series of editors. You can read more of his work here or find him on Twitter at @SilverTuna014.