News
Hearthstone: Ragnaros and Other Wild Cards Back to Standard
Some beloved (and sometimes hated) Hearthstone Wild cards are making a comeback.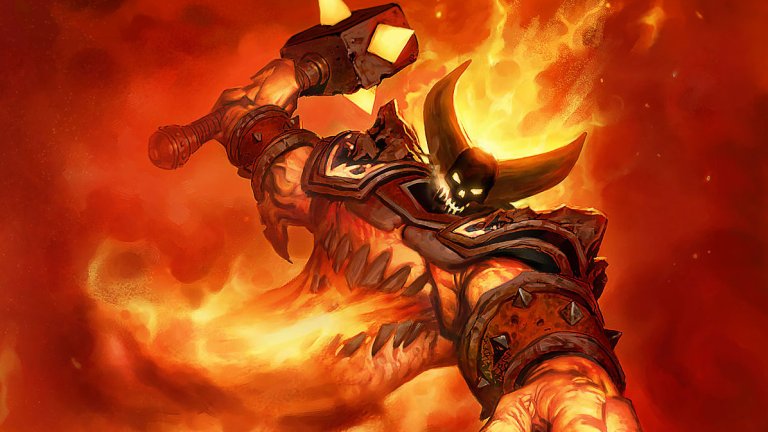 The Hearthstone team has announced some big changes that are going to impact the game in the coming weeks and potentially beyond.
The biggest of those changes is undoubtedly the announcement that certain Wild cards in Hearthstone will return to the game's Standard format for a limited time. For those who don't know, Hearthstone supports both Wild and Standard modes of play. The game's Standard format only lets you use Basic cards, Classic cards, and cards introduced in expansions released from the beginning of 2018 and beyond. Wild lets you play with every Hearthstone card ever released. That means that there are about four years worth of cards that are currently only accessible via the game's Wild format. Any of those cards are, theoretically, eligible for this transfer event. 
While Blizzard hasn't yet revealed the full list of cards that will be returning to Standard, they have confirmed that 23 Wild cards will make the transition and that those cards will include such fan favorites as Ragnaros, the Firelord and N'Zoth the Corruptor. Copies of the 23 Wild cards included as part of this update will be given for free to every player, but players will not be able to disenchant those free copies for dust. When the event is over, those free copies of the cards will no longer be accessible. 
Nostalgia aside, the return of these cards is quite exciting. Given the popularity of Standard when compared to Wild, the Hearthstone team are essentially adding 23 new cards to the game. If those two cards are an indication of the quality of cards returning to Standard, then you can expect their return to have a meaningful impact on Hearthstone deckbuilding. We'll know how big that impact will be when the full list of returning cards is announced on October 4. 
Further changes coming to the game include updated hero portraits for players who have achieved at least 1,000 wins with that class, more in-game events (including more diverse Tavern Brawls and what seems to be a Halloween-themed event coming in October), and plans to update the game's daily quest system as to ensure a more diverse and better overall assortment of challenges. 
It's been an impressive year for Hearthstone. The team made the bold (but welcome) decision to buff some old cards, released the surprisingly good Saviors of Uldum expansion, and continue to address complaints regarding the previously somewhat stagnant nature of the Hearthstone experience. 
Matthew Byrd is a staff writer for Den of Geek. He spends most of his days trying to pitch deep-dive analytical pieces about Killer Klowns From Outer Space to an increasingly perturbed series of editors. You can read more of his work here or find him on Twitter at @SilverTuna014.