News
Hearthstone Pro Suspended By Blizzard Over Hong Kong Protest Comments
A Hearthstone pro has received a substantial suspension after he supported the Hong Kong protests on stream.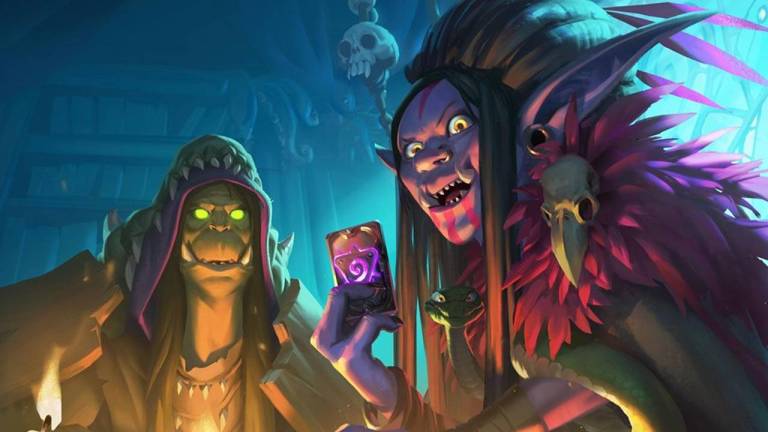 Blizzard has elected to suspend professional Hearthstone player Chung "Blitzchung" Ng Wai and pull his tournament winnings following Blitzchung's comments regarding the Hong Kong protests that were made during a recent tournament.
During a recent broadcast of the Hearthstone Asia-Pacific Grandmasters tournament, Blitzchung put on a mask similar to the one worn by the Hong Kong protesters and said "Liberate Hong Kong. Revolution of our age!" (roughly translated). The comment was made during the post-game interview segment, and both commentators conducting the interview ducked their heads under the desk as the statements were being made. 
Since that incident, Blizzard has decided to remove Blitzchung from the Hearthstone Grandmasters tournament, withhold his prize money, and ban him from participating in any future official Hearthstone eSports competitions until October 5, 2020. Blizzard has also decided to no longer work with the two casters who participated in the post-game interview. 
As part of their statement regarding the issue, Blizzard representatives noted that "While we stand by one's right to express individual thoughts and opinions, players and other participants that elect to participate in our esports competitions must abide by the official competition rules." The rule in question that Blizzard mentions seems to be a reference to section 6.1 of the Hearthstone Grandmasters rules which notes that players are barred from doing anything that "brings you into public disrepute, offends a portion or group of the public, or otherwise damages Blizzard image."
There's a lot to breakdown here, and we're sure that everyone will have thoughts on this subject in the comments below. However, it's worth pointing out a few additional pieces of information regarding this story. 
First off, if you're not familiar with the situation regarding the Hong Kong protests, we recommend reading this BBC summary that briefly covers why the protests began and what they're about. You should also know that the situation in Hong Kong has escalated dramatically since the protests began. There's also quite a lot of information out there about the Chinese government's history of censorship and how many Western companies that do business in China have adhered to demands for censorship due partially to the substantial amount of money there is to be made in the region.
Second, Blizzard's decision to no longer work with the casters who participated in the interview feels especially odd considering that the casters really had no way to influence what the player was going to say and also had no say on whether or not it would be streamed. 
Finally, the rule in question seems to be an intentionally vague one that may have been implemented to allow Blizzard to remove a player at their discretion for just about any reason. In this case, that reason appears to be based on the looming threat of the Chinese government and what they could do to Blizzard from a financial standpoint. It should be noted that is speculative information at this time, though. 
This certainly feels like a bad look for Blizzard at a time when the company is riding the high of the resurgence of World of Warcraft and is about to release a massive Hearthstone update that will affect the Grandmasters tournament in question. 
Matthew Byrd is a staff writer for Den of Geek. He spends most of his days trying to pitch deep-dive analytical pieces about Killer Klowns From Outer Space to an increasingly perturbed series of editors. You can read more of his work here or find him on Twitter at @SilverTuna014.