News
Hearthstone: Descent of Dragons Release Date and Trailer
The next Hearthstone expansion will add an army of dragons to the game.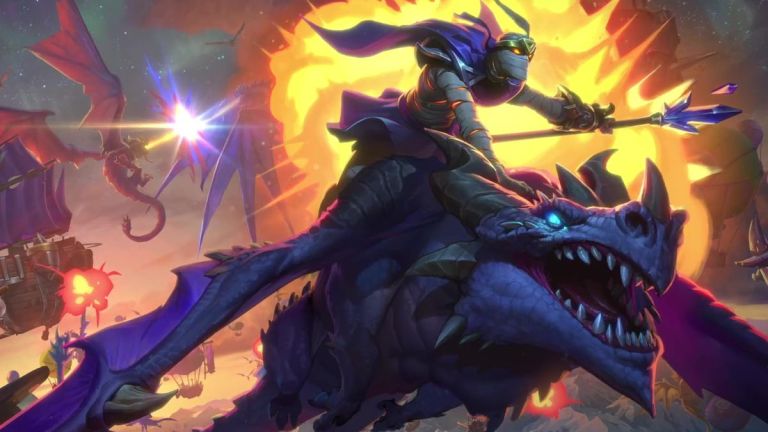 The next Hearthstone expansion is officially titled Descent of Dragons.
Considering that Hearthstone's current content year is called the Year of the Dragon, it's appropriate that the final expansion of the year will focus on dragons. Specifically, it sees the League of Explorers and the League of E.V.I.L venture to a World of Warcraft staple zone known as Dragonblight. That region contains shrines for the various Dragon Aspects which seems to be where everyone is getting their new dragon friends. 
We'll see how the lore plays out, but as always, the next Hearthstone expansion is really all about the cards. So far as that goes, it's clear that one of the new stars of this next expansion will be the dragon Galakrond. As a hero card, Galakrond will replace your current hero and your hero power. We've seen that mechanic before. 
What we haven't seen before (at least not quite in this form) is a new mechanic called Invoke. Basically, playing certain cards will increase the Battlecry power of the Galakrond card. It's not clear whether or not we'll see other cards utilize this mechanic, but we're almost certain that will be the case. 
Interestingly, Blizzard has also revealed a new mode for Hearthstone called Battlegrounds. Blizzard described this mode as Hearthstone's take on the auto-battler genre, so those who play Teamfight Tactics and similar titles should have a rough idea of what to expect. It seems that this mode will introduce some twists to that concept, but we're waiting to see exactly how the mode will play out.
Hearthstone: Descent of Dragons is set to release on December 10. You can pre-order the game starting right now. 
Matthew Byrd is a staff writer for Den of Geek. He spends most of his days trying to pitch deep-dive analytical pieces about Killer Klowns From Outer Space to an increasingly perturbed series of editors. You can read more of his work here or find him on Twitter at @SilverTuna014.