News
Hearthstone: Kobolds and Catacombs Is the Next Expansion
Hearthstone pays tribute to the dungeon crawler with this next expansion.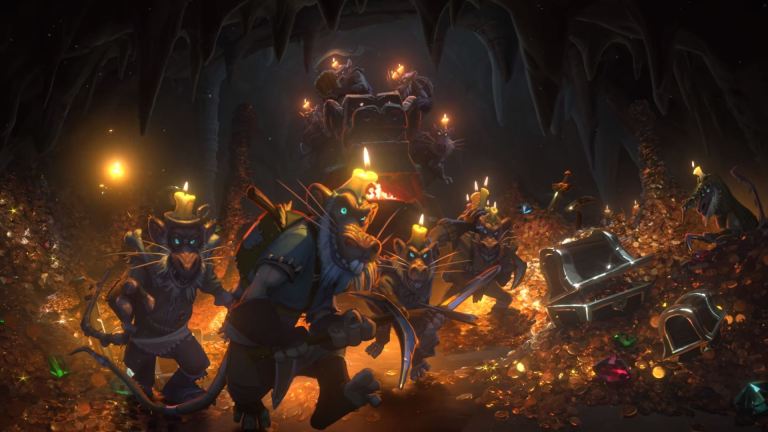 Hearthstone's next expansion is going to take us deep into the dungeons of Azeroth in search of rare treasures. It will release on December 7th and will offer players the chance to win six free packs. Here is the first trailer for Kobolds and Catacombs:
The Kobolds and Catacombs expansion is the third and final Hearthstone expansion of 2017. It is the second expansion of the year that embraces Blizzard's new philosophy of releasing major expansions that also include a single-player component. Previously, those releases were treated as seperate pieces of content. 
This new single-player campaign is certainly the most intriguing yet. It's called "Dungeon Runs," and it was described by Blizzard's Ben Brode as a kind of take on what a Hearthstone rogue-like may look like. It requires players to choose a hero and use a deck only consisting of ten cards against a variety of random bosses. Whenever you beat one of these bosses, you can to select one very powerful "boss card" to add to your collection. The goal is to see how long you can last. 
If you manage to beat Dungeon Run with all nine classes, you'll receive a new cardback. 
As for the expansions, cards, we've unfortunately only got to see a few of them so far. However, one of those cards – Marin the Fox – is actually going to be made available to all Hearthstone players this Monday. Marin is a legendary card that requires players to kill a high health minion in order to earn a very powerful card. Other cards revealed thus far include Crushing Walls which destroys your opponent's left and right-most minions. 
Blizzard also stated that this new expansion will add one legendary weapon for every one of the game's nine classes. It will also introduce a new keyword – Recruit – that will allows players to pull a minion from their deck and put it into the battlefield. We've seen a similar effect used in recent expansions. Already, it's proven to be a catalyst for deck types that wish to cheat out big minions and overwhelm their opponents that way. 
There's been no word on Kobolds and Catacombs official release date, but Ben Brode stated that it will be available sometime "next month." For the time being, Hearthstone players are already able to pre-purchase 50 packs for a reduced price of $49.99.