News
Hearthstone: In-Game Tournament Mode Details
Hearthstone will finally receive a beta for in-game tournaments later this year.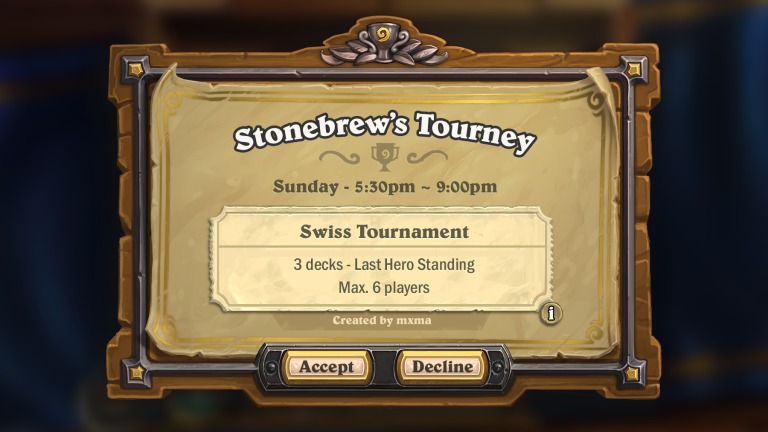 After years of anticipation, Hearthstone is finally receiving an in-game tournament option. 
Sometime later this year – there is no definitive date set yet – Blizzard will launch a beta for Hearthstone's in-game tournament mode. According to an official press release, this tournament mode will "help players run a Hearthstone tournament form their own home or Fireside Gathering." It will allow players to manage their own tournament brackets and manage things like who will play who as well as review decklists to ensure they comply with any requests. Over time, Blizzard plans to add additional features to tournament mode that will afford organizers a greater deal of control. 
Hearthstone Game Director Ben Brode spoke a little more about how tournament mode will work when the beta launches. 
"[Tournament organizers] will create a start time for the tournament and note how many players will be participating in the tournament," said Brode. "Tournaments are run Swiss-style. The sign-up window will last until the time the tournament begins. Players will have that long to accept the invite and lock-in their decks." He also stated that organizers will be able to set some basic parameters such as whether or not wildcards are allowed and whether the tournament will operate under last hero standing or conquest format. The organizer will also have the option to invite friends directly from the Blizzard client or to send a custom tournament code out to a group of people.
However, there are a few things that tournament organizers will not be able to do when the beta launches. For instance, Blizzard does not currently plan to allow tournament organizers to ban certain cards within the client. Brode mentioned that they're aware of this request, but didn't specify any plans to incorporate it. Furthermore, tournament organizers will have to manage any rewards they intend to give out to participants. That seems to mean things like in-game gold will not be available as rewards when the tournament client is launched.
As innovative and welcome as this client is, Brode noted that Blizzard intends for the initial release of this tournament client to be used more by local organizers and less by organizers of official esports tournaments. 
"We are working on providing additional support for our esports tournaments that will help make those run more smoothly, but this is not intended to be for that audience," said Brode. "This is intended to be for a broader audience and anyone that wants that tournament experience."
That being said, the initial version of the tournament client will incorporate some features designed to keep games professional. For instance, players may suffer a time penalty if they're intentionally dragging out the timer on turns and Blizzard will implement some kind of time limit to prevent players from exploiting potential "infinite" decks. Players who do not show up to a tournament or leave before they are finished will also be worked around with the matchmaking system. 
All in all, it doesn't sound like Hearthstone players should expect the initial version of the tournament client to be Blizzard's complete vision of how in-game Hearthstone tournaments will eventually work. However, it should offer players a far easier way to manage local tournaments – or small-scale online tournaments – within Hearthstone.