News
Hearthstone: Blizzard Reveals 18 Card Buffs, Free Legendary, and More
Blizzard is finally buffing Hearthstone cards as part of an upcoming in-game event.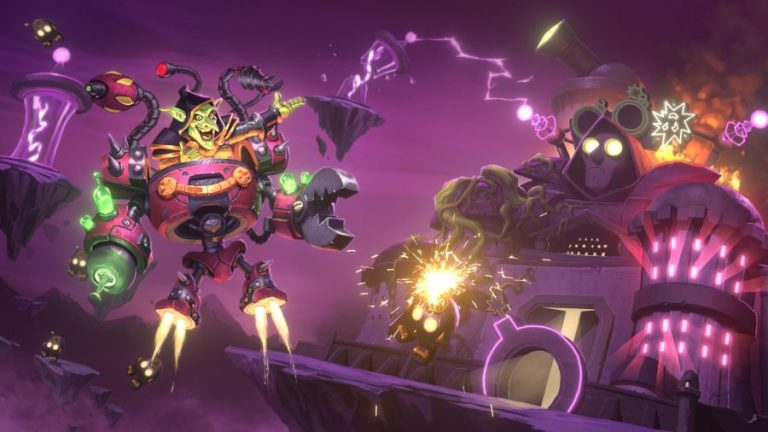 In a shocking move, Blizzard has announced that they will buff 18 existing Hearthstone cards. This marks one of the few times they've buffed a card since Hearthstone exited its beta period and is by far the most significant series of buffs unveiled since that time. 
Each class will receive two buffed cards from the game's The Boomsday Project expansion. Many of the cards being buffed might not manage to see a significant amount of play even after they are improved, but some almost certainly will. Those include the Druid card Gloop Sprayer (a good, but an underused card), the Hunter card Necromechanic (which was already borderline playable), the Mage card Luna's Pocket Galaxy (which just became notably better), and the Rouge card Pogo-Hopper (which was always fun, but just became that much more useful). You can check out every card that's being buffed over at the Hearthstone blog. 
What more important than the actual buffs, though, is the idea that any of the game's cards are being buffed. For years, Blizzard has maintained that they would rather print new cards than raise the power level of old ones. Fans complained that by not doing so, Blizzard was just trying to sell more packs and wasn't utilizing the advantages of operating a digital card game. This could prove to be an interesting precedent for future buffs to come. 
While these card buffs are tied to Hearthstone's upcoming Rise of the Mech event, Blizzard notes that they are permanent (unless they decide to eventually nerf them as they do with other cards). 
Also included in the Rise of the Mech event is a new legendary called SN1P-SN4P, which every player will receive a free golden copy of, a rotation of the game's existing arena cards, and a special streaming event referred to as the Mech-vitational. This event and the buffs it brings will go live starting on June 3. 
With any luck, this decision represents the start of a new era of Hearthstone in which Blizzard not only does more to address the power level of weak and strong cards but makes more of an effort to add content to the game outside of Hearthstone's 3 yearly expansions. 
Matthew Byrd is a staff writer for Den of Geek. He spends most of his days trying to pitch deep-dive analytical pieces about Killer Klowns From Outer Space to an increasingly perturbed series of editors. You can read more of his work here or find him on Twitter at @SilverTuna014.