News
Halo Almost Got a Cute Mega Bloks Spin-Off Videogame
Microsoft's hit shooter franchise Halo almost got its own Mega Blocks spin-off, featuring Lego-style building as well as blasting...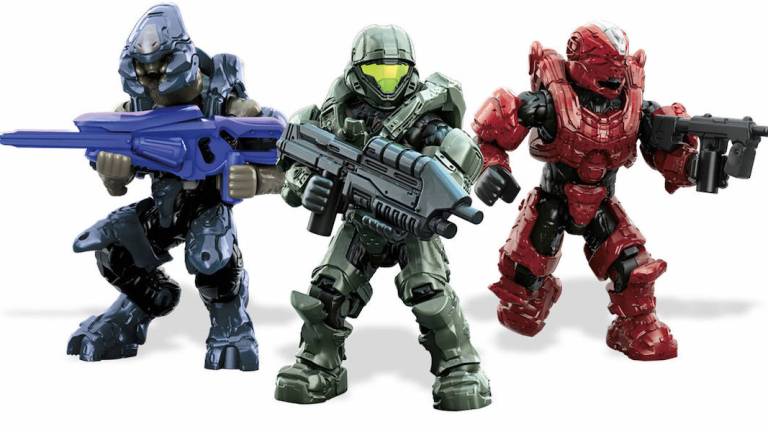 For over a decade now, TT Games' Lego series has been turning such properties as Star Wars, Harry Potter, and the Marvel universe into fun, quirky action titles which mix up platforming, shooting, collecting and puzzle-solving. Microsoft's Halo franchise was a bit too gun-heavy and violent to get its own Lego game, but it did very nearly get the next best thing: a markedly similar third-person mash-up based on Mega Bloks.
If you haven't heard of Mega Bloks, it could be described as the Pepsi to Lego's Coke: a construction system largely based on tiny plastic bricks, but without the global recognition. Parent company Mattel hatched a deal to make Mega Bloks sets based on Halo a few years back, and thanks to gaming historian Andrew Borman, we now know there was also a Mega Bloks Halo videogame in the works.
The game was the work of N-Space, an American developer largely known for developing licensed games and handheld spin-offs, such as the Nintendo DS versions of Call Of Duty: Black Ops and Toy Story 3: The Video Game. Mega Bloks Halo – or Haggar, as it was codenamed – would've followed the Lego game formula quite closely, with third-person shooting, platforming and a spot of construction. The latter aspect would've allowed you to build background elements that help you through the game – gun turrets, elevators, that kind of thing – and there'd have been a spot where you could also customise your Warthog vehicle. 
Okay, so Mega Bloks Halo wouldn't have won any prizes for originality, but the section of game N-Space built looks really enjoyable, and Master Chief looks great in his chunky, super-deformed guise. Sadly, timing wasn't on mini Halo's side; the game was in production towards the end of the Xbox 360's life, and it seems that Microsoft simply wasn't interested in investing further in a cutesy Halo spin-off. 
Thanks to an anonymous donor, and Borman's video, we can at least get a look at the Halo game that never was.
Source: Kotaku