News
Halo 2 Composer Shares Footage From Recording of Iconic Main Theme
Marty O'Donnell reveals the raw footage of Steve Vai's guitar track for the Halo 2 theme.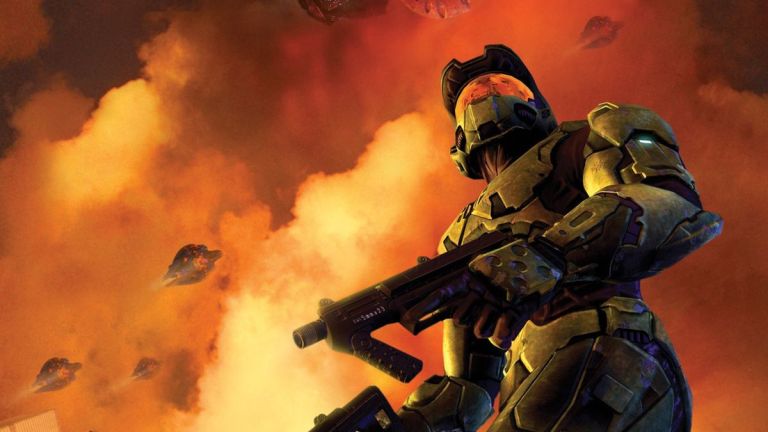 Former Halo composer Marty O'Donnell took to Twitter to share incredible footage of guitarists Nile Rodgers and Steve Vai recording the theme for Halo 2. 
It all started when O'Donnell sent out a tweet regarding an old DVD that contained footage of the Halo 2 recording sessions. He claims to have never shared it with anyone due to the poor quality of the footage. However, he asked fans if anyone knew how he might be able to transfer the DVD footage into an uploadable file format. 
With a little help, O'Donnell was eventually able to upload the video you see above to this YouTube channel. The footage you see comes from an October 15, 2003, recording session in which O'Donnell worked with Rodgers and Vai to record the iconic guitar track in Halo 2's incredible main theme. O'Donnell notes on Twitter that the thing to pay attention to is how much effort it took to get the guitar section of the track to really gel with the rest of the theme.
However, most of us are probably too in awe at the spectacle of Vai just freestyling over the orchestral Halo theme to pay attention to any particulars of the composition. The Halo 2 main theme has long been considered one of gaming's greatest tracks. Getting to watch the raw footage of how it (mostly) came together is a true treat that also helps fill one of the many "how was it made?" voids in video game history. 
As incredible as it is to think that O'Donnell was just sitting on this footage all these years, we're also now learning that the legendary Halo composer has access to all kinds of memorabilia from his time with the franchise. He posted a few of those pieces on Twitter, but none of the things he has shared thus far are as intriguing as O'Donnel's hint that he has access to some of the "old voice files from Halo 2 original ending." 
Sadly, O'Donnell has not yet shared those voice files at this time. Here's hoping he changes his mind. 
Matthew Byrd is a staff writer for Den of Geek. He spends most of his days trying to pitch deep-dive analytical pieces about Killer Klowns From Outer Space to an increasingly perturbed series of editors. You can read more of his work here or find him on Twitter at @SilverTuna014. 
Read the latest Den of Geek Special Edition Magazine Here!