News
Halloween Star Jamie Lee Curtis Graces the Cover of Den of Geek Magazine
The ultimate scream queen, Jamie Lee Curtis returns to her iconic role and embraces a lifetime of Halloween.
If you're a fan of genre-driven pop culture, there's no better month than October. The new TV season is still revealing its secrets; the next batch of the year's biggest movies of are right on the horizon; and best of all, it's Halloween, the perfect excuse of all to indulge in the eerie delights entertainment has to offer.
Perhaps there's a reason for the recent year-round horror renaissance in movies, on TV, and even in comics. Horror movie villains are easy to grasp. Imagined horrors can be understood. Like the relatively recent dominance of superhero movies and television, horror helps us define an increasingly chaotic world in clearer tones.
It's often the monsters we remember. Their extraordinary powers, iconic looks, and terrifying brutality grant them a hold on us that borders on the supernatural. The survivors, the heroes, and the antiheroes who defeat them, are always decidedly ordinary. They represent resilience, grit, and the individual's ability to do what must be done to achieve victory in the face of overwhelming odds.
Our Den of Geek magazine cover story focuses on the horror genre's single greatest example of an ordinary person overcoming extraordinary odds: Jamie Lee Curtis' Laurie Strode from the Halloween franchise. Laurie does the best any of us could hope to do in the worst situation and she does it without powers, without mystical weapons, and even without perfectly timed one-liners. As October gives way to November, remember how relatively simple actions can add up to meaningful victories, no matter how dark the night may seem.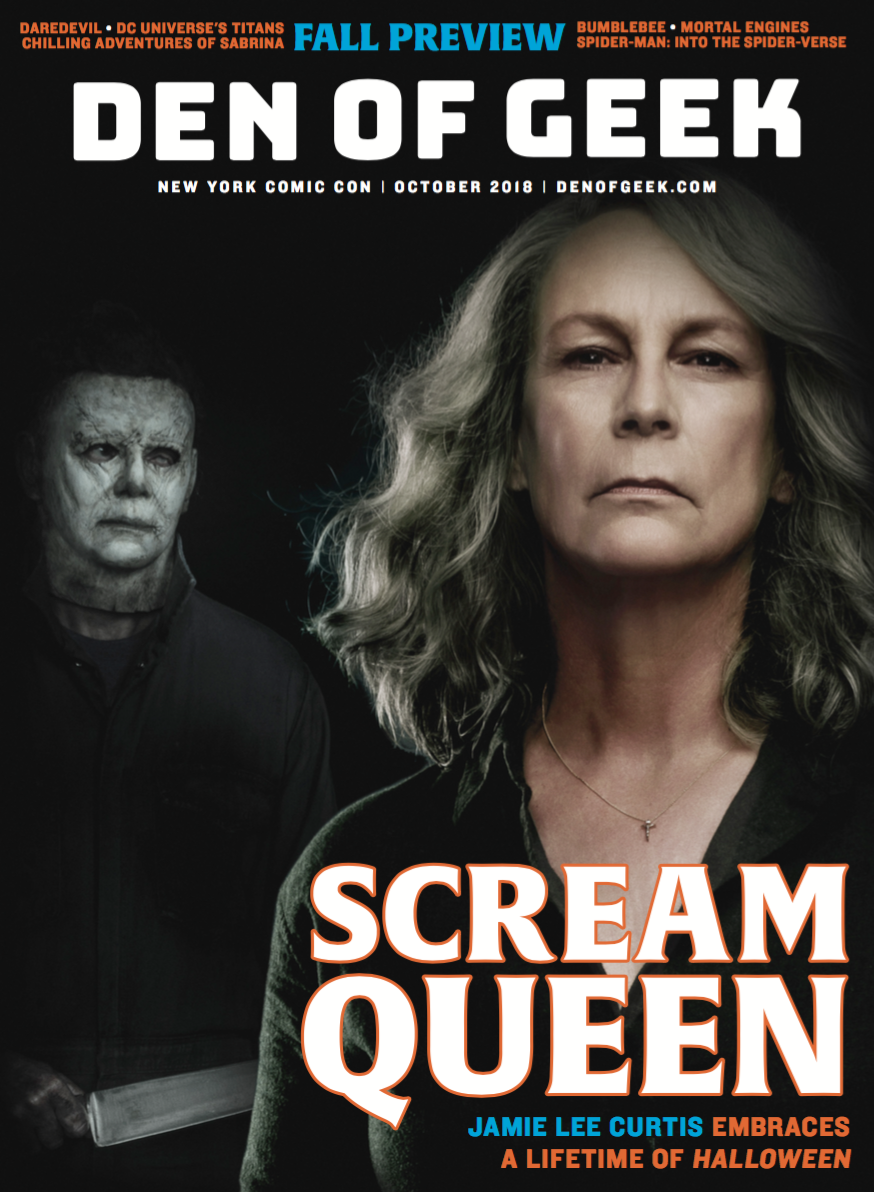 The Den of Geek special edition magazine will distributed at New York Comic Con at the Javits Center from Oct. 4 – 7. Not at NYCC? Don't worry! The glossy, 68-page collector's edition will also be available for pre-order for fans unable to attend the convention. A digital version of the magazine will be available to read on DenofGeek.com beginning on Oct. 3. 
You can find Den of Geek contributors moderating key panels during the show. Podcast Editor Michael Ahr will moderate The Man in the High Castle panel on Thursday, Oct. 4 at Hammerstein Ballroom. Editor-in-Chief Mike Cecchini will moderate the Rise of the Teenage Mutant Ninja Turtles panel on Friday, Oct. 5 on the Main Stage. Associate Editor Kayti Burt will moderate the Tor Presents #FEARLESSWOMEN panel on Friday, Oct. 5 in Room 1A18.
DEN OF GEEK MAGAZINE Highlights for NYCC 2018:
Jamie Lee Curtis and director David Gordon Green talk returning to the source of evil with Halloween.

The Big Fall Movie Preview featuring exclusive interviews with Mortal Engines producer Peter Jackson and director Christian Rivers, Bumblebee screenwriter Christina Hodson, and Spider-Man: Into the Spider-Verse star Shameik Moore.

Our Fall TV Preview features exclusive interviews with The Chilling Adventures of Sabrina co-creator Roberto Aguirre-Sacasa and stars Kiernan Shipka and Miranda Otto, Daredevil showrunner Erik Oleson, Big Mouth co-creators Nick Kroll and Andrew Goldberg, and Titans executive producer Geoff Johns and star Brenton Thwaites.

Feature: Mission Mars – How shows like National Geographic's MARS and Hulu's The First are reigniting our interest in space travel.
We'll see you all at New York Comic Con! Click here to view previous digital issues of Den of Geek magazine.
Share your reactions to the cover with #NYCCgeek on Twitter or Instagram, or let us know what you think in the comments below!