News
H1Z1 Is Getting a New Vehicular Battle Royale Mode, Leaving Early Access
H1Z1 is officially launching on Steam with a new vehicular battle royale mode!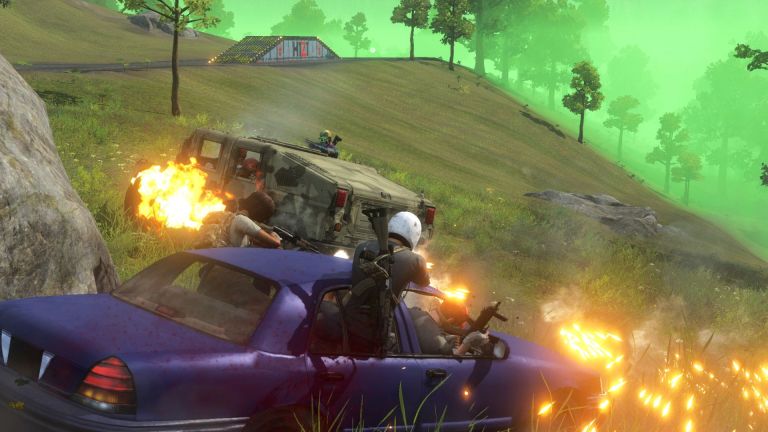 Daybreak Games has announced that H1Z1 is leaving Early Access today with an official launch that includes a new mode called Auto Royale, a vehicular twist on the game's popular battle royale mode. (And to completely break objectivity for a second: it sounds awesome – like an online version of Twisted Metal.) H1Z1 is now available for $19.99 through Steam for Windows PC.
Inspired by H1Z1's vehicle play, Auto Royale features up to 30 teams of four in a battle to be the last vehicle standing. Teams speed around the massive map looking for power-ups, weapons, ammo, fuel, and health as they try to out-shoot, out-drive, and outlast the competition.
The mode introduces two new vehicles to H1Z1, a sedan, and an armored recon vehicle (ARV), and a variety of features to cause vehicular havoc, including ramps, land mines, oil slicks, turbo boosts, vehicle jumps, corrosive smoke, and much more.
Daybreak has plans for further updates to the game after the official launch, including Z1 Remastered, a revamped version of the fan-favorite map from H1Z1's early days. 
According to the press release, here's all the stuff you can expect from Auto Royale and the game's official launch on Steam…
AUTO ROYALE GAME MODE HIGHLIGHTS:
Two New Vehicles: Players can choose from two vehicles in Auto Royale – Sedan or ARV – both new to the game and only available in Auto Royale.
– Sedan: Nimble car with faster acceleration and higher jump clearance, allowing skilled drivers to quickly evade enemies.
– Armored Recon Vehicle (ARV): Offers more stability, making it easier to drive for new players, but has less turbo fuel efficiency.
New Weapons: The Light Machine Gun (LMG), available only in Auto Royale, deals the most sustained damage of any gun in the game.
New Power Ups: Players pick up evasive, defensive and combat drops to throw opponents off their trail, heal themselves, or deal damage to enemy vehicles.
– Defensive drops include vehicle repair kits, environmental buffs, fire extinguishers, and vehicle armor.
– Evasive power ups include smoke screens, high-octane fuel, turbo boosts, and oil slicks.
– Combative pick-ups include land mines and corrosive smoke.
Auto Royale is currently in Beta and will continue to develop with feedback from the community. Along with the new vehicular battle royale game mode, H1Z1 launches with a plethora of new features designed to enhance the game's competitive nature and fast-paced combat.
ADDITIONAL H1Z1 LAUNCH FEATURES:
Tactical Deployment: Players can choose which area to parachute into at the start of a match using a heat map that shows locations of where other players spawn.
Airdrop Revamp: The airdrop system has been refined to add more points of contention, increasing the drop frequency and item value.
Season 1: The official first in-game Season for H1Z1 starts with an all-new scoring algorithm designed to reward consistency and aggression, not just a player's 10 best placements.
Mini Map: Players now have the option to turn on a mini map to help them navigate the world.
Founder's Item: All players who bought H1Z1 during Early Access will receive a special in-game shirt.