News
Guacamelee 2: Release Date Confirmed
Guacamelee 2 will finally arrive in August.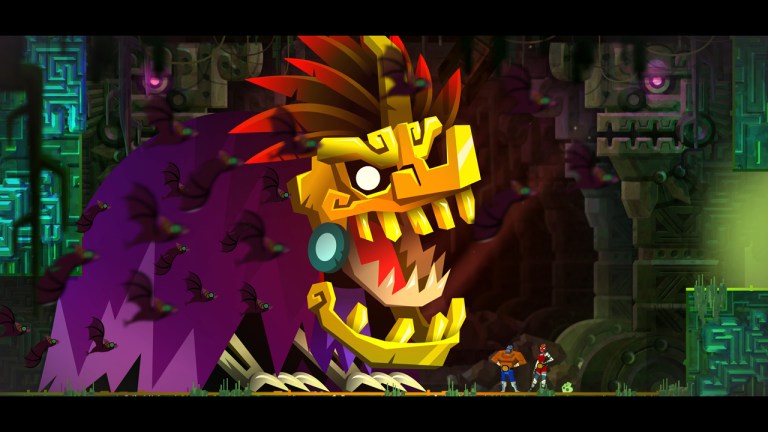 Guacamelee 2's release date has finally been revealed.
You can get your hands on this long-awaited sequel starting on August 21st. The game will be available for PlayStation 4 and PC on that day, and there's currently no word regarding its availability on other platforms. In case you missed it, here's the game's debut trailer. 
Guacamelee 2! takes place roughly seven years after the events of the first game. Our hero from the original adventure (luchador/farmer Juan Aguacate) is called into action once more when a new terror threatens to end the universe and all that jazz.
As for what new elements this sequel brings to the table…well, it's got a whole lot more chickens than the original game. Developer DrinkBox has stated that you'll get a lot more mileage out of Juan's ability to transform into a chicken this game. That's oddly encouraging to hear given that the transformation abilities of the first game were, in retrospect, kind of underutilized. Along with more instances of being able to transform into a chicken, this sequel will afford Juan more combat abilities in that form. 
Guacamelee 2! will also introduce a new maneuver called Eagle Boost which essentially serves as a grappling hook that allows Juan to easily bounce around levels. That ability should be especially chaotic in the game's new four-player co-op mode. 
Otherwise, this seems to be the same Guacamelee! that won many over back in 2013. That means you can expect a lot of Metroidvania gameplay amplified by a stunning art style, an incredible gut string guitar soundtrack, and tons of personality largely derived from the game's Day of the Dead vibe and juvenile – though still funny – sense of humor. 
There's no shortage of Metroidvania games on the indie market, but Guacamelee!'s intangibles have always made it one of the best in class. 
Read the Den of Geek SDCC 2018 Special Edition Magazine Here!